Samsung Galaxy S Advance available now on Three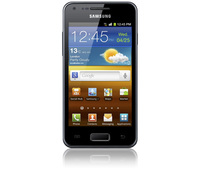 The Samsung Galaxy S Advance is now available online from three.co.uk.
With a stylish curved glass design, the Samsung Galaxy S Advance looks stunning and it's powerful too. With a fast 1.0GHz dual core processor you get a super smooth experience whether you're downloading apps, browsing, gaming or watching video.
The Galaxy S Advance has a large 4-inch screen with Super AMOLED technology for vivid colours. A great choice if you love to take photos and make videos, it boasts a 5 megapixel camera with HD video and playback.
Sylvia Chind, head of handsets at Three said, "The curved touchscreen of the Samsung Galaxy S Advance really does bring rich media content to life. And whether you're into downloading videos and images, or sharing the ones you've captured yourself, you can rest assured that you'll always be protected from surprise data bills on Three."
The Samsung Galaxy S Advance is available with no upfront cost on Three from £23 a month on the Essential Internet 300 plan with no surprise data bills. Guaranteed.
The handset is also available on Pay As You Go for £269.99. All in One 15 costs £15 and gives 30-day access to all-you-can-eat data along with 300 any-network minutes and 3,000 texts. Or All in One 25 costs £25 and offers 500 minutes, 3,000 texts and all-you-can-eat data for a 30-day period.