Couple escape the rental trap with FirstBuy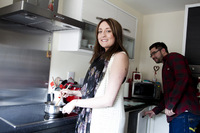 Tired of wasting their hard-earned cash on rent, Lee Tyler and Kylie Bates longed for a home of their own and thanks to FirstBuy they were able to step onto the property ladder sooner than anticipated.
They have now moved into a brand new three-bedroom duplex apartment at Redrow's Bletchley Park development, near Milton Keynes, leaving behind their old two-bedroom rented home in Emerson Valley.
Lee explained: "It's difficult saving for a deposit while you're paying rent but FirstBuy helped make buying our own home more affordable as we only needed a 5% deposit rather than the 40% we would have needed on the open market. It's made a big difference and because we were able to defer paying a percentage of the property's price it's also made our monthly mortgage repayments more manageable."
Current availability at Bletchley Park includes a choice of two and three-bedroom properties, with prices from £174,950.
With a FirstBuy loan for up to 20% of the purchase price, it means that the customer only has to apply for a mortgage for 80% of the property's value.
As a result, there are homes available from just £139,960, with an equity loan covering the remaining share. This loan is interest free for five years and can be repaid when the customer has more funds available or when they resell.
Lee, 32, works in human resources, while Kylie, 24 is a nursery nurse and trainee teacher. They viewed a number of properties, new and second hand, but decided the Redrow homes at Bletchley Park were by far the best in terms of the quality of the finish, the size of the properties and customer service.
"People always say moving is one of the most stressful things you can do, but buying a Redrow home was really smooth, easy and hassle-free," Lee added.
"We've already recommended Redrow to other first time buyers because they were absolutely fantastic in helping us buy our first home. The aftercare we received was second to none – they dealt with any knocks and scrapes from when we moved in really quickly."
Tucked away in the quiet town of Bletchley, on the edge of Milton Keynes, Bletchley Park may seem a world away from the hustle and bustle of city living; yet the homes enjoy easy access to London in just 45 minutes from the nearby train station.
Blue Lagoon Nature Reserve is just a stroll away with opportunities for woodland walks and nature trails. The main lake is used by a local sub aqua diving club and for angling.
To discover how Redrow could help you on to the property ladder, visit Bletchley Park, where the sales office is open daily from 10am to 5.30pm.
For more information, visit redrow.co.uk.