Hidden treasures in Covent Garden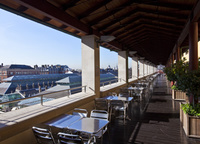 If you ever wondered where in the West End you might find a quiet moment of solace, stumble upon an unknown spot for a bite to eat or enjoy a rooftop view off the beaten track, we may have just found your new secret retreat. For the seasoned Londoners who assume they've encountered every nook and cranny of Covent Garden, add these hidden gems to your London bucket list…
Royal Opera House Rooftop Balcony
Overlooking the historic Covent Garden Market Building rooftop and offering exquisite views of the North and East Piazza, the Royal Opera House under-cover balcony is a secret haven known to Opera House goers. Sip champagne pre-performance or simply pay for a day pass and while the afternoon away people-watching from the seclusion of the balcony.
Laduree Balcony
Ever fancied tea and macarons with a view? The balcony at Laduree offers just that and more; enjoy an opulent afternoon tea overlooking the Covent Garden's West Piazza and the Market Building at London's only stand-alone branch of the Parisian tea salon.
Raymond Blanc Brasserie Blanc
Opening this June in the very centre of the Piazza, diners at Brasserie Blanc will be treated to prime views across Covent Garden in the sunshine from the privacy of the Opera Terrace. Featuring a crêperie, a stand-alone cocktail bar and London's largest selection of absinthe, it's probably best to reserve your table now!
Lamb and Flag
Nestled in the heart of Covent Garden, this simple, unpretentious tavern tucked away in Rose Street is the perfect post-work escape for those wanting to avoid tourist watering holes. Open since the 17th Century, the Lamb and Flag is the oldest pub in Covent Garden and a secret kept close to the chests of locals.
St. Pauls Churchyard
An inviting outdoor oasis of serenity concealed behind 17th Century treasure, St. Pauls Church, or 'The Actors Church' as it has become affectionately known amongst the theatre community. Being such a closely guarded secret, even elite A-list singer Gwen Stefani chose the privacy of the location to get married there. The beautiful churchyard is the perfect spot for sitting in the sun during your lunch break, burying into a good book or even a romantic moment during a date!