Hot' status for London's St Ermin's Hotel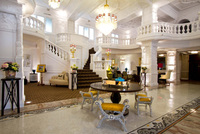 The newly restored and redesigned St Ermin's Hotel in St James's Park, London has been included in Conde Nast Traveler's 2012 Hot List of 100 best new hotel openings worldwide.
"With such phenomenal hotel competition - particularly in London this past year - the whole team at the St Ermin's is delighted to have received this prestigious recognition, commented General Manager, Douglas McHugh,
"Our aim throughout has been to revive the style and fortunes of this original London grande dame and put her back on the map for both local and international guests. We have stayed true to the St Ermin's original Grade II architecture and quirky character, but brought her right up to date in terms of style, comfort and friendly, five star service", he concluded.
This month has seen completion of the hotel's third and final wing (which had been used as office space over recent years) bringing it to its full complement of 331 rooms and suites. May sees the opening of the Caxton Terrace as an al fresco seafood venue for the Summer, whilst in June the inaugural St Ermin's Hotel Intelligence Book Award will be announced - in recognition of the hotel's long and rich connection with British and international intelligence communities.
The first British hotel to join the MGallery Collection of exceptional hotels, accommodation at the St Ermin's Hotel starts at £209 + VAT per double room. (sterminshotel.co.uk).