Russians keen to invest abroad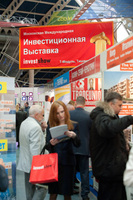 Russians hunger for overseas real estate has also been increased due to the recent Putin election victory, as many feel that reforms are likely, and they prefer to invest overseas rather than rely on the Russian banking system.
The Russian overseas property market is now estimated to be worth in excess of $.12 billion. Most Russians do not have mortgages resulting in substantial disposable income to invest in real estate abroad. Russia is home to more than 1 million so called "mass affluent" with up to $.425, 000 in cash assets.
Spring is traditionally one of the busiest times on the Russian Property calendar, with a number of major events taking place in Moscow and St. Petersburg, magazines are full of beautiful real estate and the internet is hot with property information.The snow came relatively late to Russia this year but when winter came it was cold, dark and long. Exhibition organisers use this time to run events allowing potential Russian investors a few hours of hope whilst discussing their plans in warmer climates. St. Petersburg saw two organisers competing on the same dates with venues less than 200 meters apart!
However, again the need for specialization was so apparent. The St. Petersburg International Property Show attracted over 6,863 visitors, an increase of 5.5%, while the rival event with fewer stands had a poor turnout with low quality visitors primarily looking for local, subsidised property. The show to beat however is well established Moscow International Property Show, held this year in April. Despite un-seasonal late snow falls, the exhibition attracted 218 international property developers and agents covering more than 40 destinations around the world. Over 7,902 visitors passed through the doors over just two days, making this one of the most visited shows in Europe!
Another success story is the internet in Russia. Internet penetration is now massive at 61.5 million and is in second place in Europe to Germany with 67.4 million. With so many users in the population, the internet is a major marketing and promotional tool. So Russians like to search the internet, but remember Russians speak Russian! Statistics prove that more than 89% prefer to research and search in their native tongue, Russian!
Multi-lingual portals providing auto-translations should only be used at your peril. Some translations are ludicrous where others can even be offensive! One property portal, 1-property.ru will arrange free translations for overseas clients, avoiding any embarrassment. Launched six years ago, this portal now has over 5,000 visits a day. Russians are still very cautious when buying abroad so research is all part of the game.
Attending exhibitions, searching the internet, and reading magazines all play important parts in their decision making. International Residence Magazine, created in 2003, has established itself as "Russia's leading overseas property magazine." Printed twice a year, 35,000 copies of each issue are published and distributed to a targeted audience. Unlike many countries, Russian's love to read magazines and this tendency is still growing. So what is actually happening in the market? All economic indicators are positive. Earnings are increasing whilst local costs remain generally the same, resulting in additional disposable income and consumer spending. Interest in the principle of owning property abroad continues to increase as the developing Russian middle class plays 'catch-up' with their European neighbours.
The future from Russia is looking good as the spring shows have indicated, and I am sure many overseas developers and realtors reading this will be on the next flight to Russia. But remember, Russian's like to see that you are active in their backyard. Your company maybe well-known back home, but in Russia your brand is most likely unknown. Perhaps now is the time for concentrated marketing and creative sales. Also look for active marketing. Does the portal of your choice apply cross-marketing with printed media and promotions at Property Exhibitions in Russia? Just having an internet presence is no longer sufficient as integrated marketing and promotions ensure continuous coverage to the target audience. Russia remains wrapped in mystery but as the numbers of Russian buyers increases around the world, clever marketing will provide substantial results.