Staying safe at this year's music festivals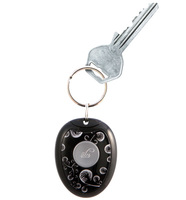 A fabric tent provides precious little security from opportunistic intruders, but peace of mind can be found in the shape of ila's stylish personal safety accessories. The ila PEBBLE personal safety alarm's keyring attachment can be threaded through a sleeping bag zip for easy accessibility in case of emergency in the early hours of the morning.
In times when female festival-goers become separated from their friends, it would be comforting to know that they can immediately put their hands on a 130dB alarm should the need arise. The ila DUSK personal safety alarm hangs prettily from the outside of a bag or belt loop and, when activated by pulling the chain, emits an ear-piercing woman's scream, drawing attention, disorientating the attacker and giving precious seconds to make an escape.
After many exhausting hours of jumping around to your favourite bands, a numerical code can easily vanish from your memory, so the ila WORDLOCK provides a less forgettable option. The TSA approved padlock protects your belongings while you're embracing the festival's offerings. Simply set the code to a memorable four-letter word and unlock dry welly socks in no time.
ila PEBBLE RRP £9.99 ila DUSK RRP £15 ila WORDLOCK RRP £6.99
Full range available at: handpickedcollection.com.