Underpass opening set to boost Costa del Sol property market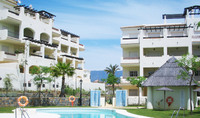 After almost five years of on-off construction, controversy and congestion, the San Pedro underpass is finally set to open in June this year. Traffic will flow fluidly between Marbella and the western Costa del Sol and breathe new life into this section of the Coast's property market where many bargains are to be had.
Adam Cornwell, Managing Director of Feltrim International selling property on the Costa del Sol comments, "The San Pedro underpass saga has been nothing short of an embarrassment and thorn in the side for residents and tourists alike. A project that was conceived to ease traffic and be finished in 2009 has dragged on almost five years and created the congestion blackspot from hell. When the ribbon is cut in June we'll all breathe a sigh of relief and journeying to the 'west' and towns such as Estepona, Manilva and Duquesa will become a swift pleasure rather than a time-consuming chore. Right now we can offer premium two bedroom apartments in Duquesa for just over 100,000 euros – ridiculously cheap for the Costa del Sol."
Built on the main coastal A7 motorway, the underpass is a kilometre-long tunnel that will bring an end to San Pedro's awkward north-south divide and do away with the need for a series of traffic lights and pedestrian crossings thus making traffic run more freely. The final cost, after many delays, is reported to reach the 85 million euro mark but more than 65,000 cars will use the underpass daily and feel its immediate benefit. Marbella Mayor Angeles Muñoz has reassured Minister for Public Works, Ana Pastor, that the project is an absolute priority will be finished in June.
One development that will instantly grow in appeal is Residencial Duquesa close to Marina de la Duquesa, some 30km west of San Pedro. Originally priced at 260,000 euros in 2007, these attractive two bedroom two bathroom apartments have been repossessed by the bank and are now available for as little as 106,700 euros with the bonus of a 100% mortgage. It doesn't take a genius to work out that's less than half price – almost 60% off in fact. This is lower than replacement value and gives people who missed the start of the property boom in the 1990s a second bite of the cherry.
Within walking distance of the marina, beach, shops and La Duquesa Golf & Country Club, facilities that would generally attract a high property price premium, Residencial Duquesa has clear rental potential. On-site residents enjoy four swimming pools, two paddle tennis courts and underground parking and the community is gated for peace of mind. Apartments themselves are a minimum 80m² and each has a large terrace. Air conditioning is installed and kitchens are equipped with all appliances from washing machine to dishwasher.
Marbella is within a 35 minute drive of Residencial Duquesa, Puerto Banús even closer at half an hour and Málaga International Airport a total of one hour. Meanwhile continue west and smart polo, marina and golf resort, Sotogrande, is less than 20 minutes drive and the rock of Gibraltar with direct flights to the UK is just 50 minutes.
Sales are swift so take advantage of this 106,700 euro price tag with 100% mortgage on offer without delay.
For more information, visit feltriminternational.com.