Reward membership cards reinstated to help stabilise saved GAME brand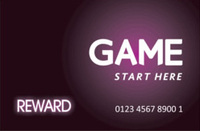 The once mighty European video gaming retailer GAME finally went into administration on Monday 26 March after a protracted period of ailing sales and difficulty convincing prominent games publishers to stock products with them. Not only have 277 stores been closed nationwide, consumers were also told that they were no longer able to redeem points on their reward cards for any GAME products.
Fortunately, there was light at the end of the relatively short administration tunnel for GAME, as a successful bid from investment firm OpCapita has saved the brand and its remaining 333 UK stores (not to mention over 3200 jobs). After resuming service, returning the brand's website to full functionality and generally picking up the pieces, GAME's new owners facilitated the circumstances to allow loyal customers the chance to use the points accumulated on their membership cards once again.
On March 29 GAME used its official Twitter account to let consumers know that their reward cards could be used again to redeem points against pre-owned games and other stock. Once the OpCapita buyout deal was finalised, a full resumption of the reward card usage followed shortly after.

Mere weeks since the near death and rebirth of GAME, the company has a much brighter outlook and plans to stabilise itself before trying to return to prominence as the premier high street games retailer. Clearly, customer confidence is integral to this strategy, as GAME needs to encourage paying customers to come back through its doors if it is ever going to have to win them back for good.
The speed at which the reward cards were reinstated (the process was begun before the OpCapita deal was even finalised) demonstrates just how strong an attachment consumers place on them. Maintaining brand loyalty is something that the consumer must be made to feel they are being rewarded for, in order for them to continue keeping faith with their shopping habits – and subsequent purchases. With customers hesitantly returning – many drawn back to redeem reward points –GAME's new owners are beginning to appreciate the importance of the printed plastic cards that are worth a lot more than their value in points.
Convincing customers that they can offer good value for money will be essential for any effort to revitalise the reduced GAME franchise. With so much competition from digital downloading, low prices of supermarkets and the likes of online retailers such as Amazon and Play, GAME still has its work cut out. Reward cards are a vital tool in their utility belt and if their ID card printers are going to keep churning them out for new customers then GAME needs to ensure that they represent appreciable savings and other tangible rewards.
In order to show that GAME is taking a new direction, not simply treading water, it will be essential to regain customers lost to other retailers and convince them into making a lasting investment in GAME again. Reward cards are a key method of achieving this delicate and difficult objective which could reverse the fortunes of this ailing high street retailer.