First-time buyers just love Milton Keynes property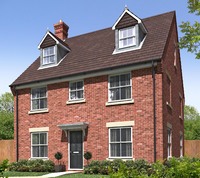 Taylor Wimpey has welcomed news that the popularity of property for sale in Milton Keynes makes it the nation's most in-demand property hotspot.
A report which has found Milton Keynes to be the UK's top first-time buying hotspot has come as little surprise to Taylor Wimpey, the leading housebuilder behind a number of developments of new homes for sale in Milton Keynes.
According to Experian's PropertyCheck report first-time buyers have been flocking to purchase new homes in Milton Keynes where they currently make up almost one in 10 (9.5%) of households in the town – officially confirming it as the most popular first-time buyer destination in the country.
The findings endorse the leading housebuilder's view that the thriving Buckinghamshire town is the perfect place for first-time buyers to set up home, with its nine developments of apartments and houses for sale in Milton Keynes proving consistently popular with home-hunters.
Taylor Wimpey Milton Keynes offers first-time purchasers a wealth of high-quality homes to choose from – while the developer's popular homebuying incentives are providing valuable assistance for buyers to get a foothold on the property ladder.
Steve Rolt, Regional Sales and Marketing Director for Taylor Wimpey, says: "The more first-time buyers there are in the town, the better it is for the area's economy as a whole, because without them the local property market would grind to a standstill.
"A combination of well-connected locations, maintenance-free properties, great-value prices and fabulous incentives mean our developments are hard for first-time buyers to resist.
"With our incentives only available on a limited selection of properties at our developments, I would urge potential purchasers to visit us as soon as possible, to ensure they don't miss out on the chance to join Milton Keynes' ever-growing army of satisfied first-time buyers."
Taylor Wimpey offers first-time purchasers two Government-backed incentives to help them secure their first home in Milton Keynes.
Selected plots at the town's Taylor Wimpey developments are available with the fantastic FirstBuy scheme, which lets qualifying first-time buyers secure their new home for just 80% of its full purchase price – that's a 75% mortgage and a 5% deposit, subject to status.
NewBuy, meanwhile, enables credit-worthy purchasers to access 95% mortgages, allowing them take their pick of selected new homes at all of the leading housebuilder's developments in Milton Keynes and secure them with just a 5% deposit.
To find out more about the high-quality homes and money-saving incentives available from Taylor Wimpey, visit taylorwimpey.co.uk.