Renault Trucks joins forces with Thompson Commercials for Tip-ex 2012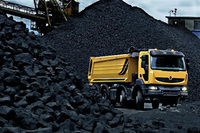 Renault Trucks, in conjunction with Thompson Commercials, will be showcasing three trucks on its stand at Tip-ex this year. As well as the new Renault Premium Lander demonstrator vehicle, a Renault Kerax 430.32 and Renault Premium 460.25 with tipping hydraulics will take the stand at the exhibition, which runs from 25-27 May 2012.

Visitors will be able to see the latest model 8x4 Renault Premium Lander 380.32, which features an Optidriver+ automated gearbox; reinforced chassis; all steel Sleeper Cab and Euro 5 engine for maximum fuel efficiency. Purposed designed for construction activities, particularly worksite supply – where payload, comfort, mobility and power are of prime importance - the Premium Lander is suited to rugged terrain. The truck on display has a Wilcox pressed aluminium alloy insulated tipping body.

A Renault Kerax belonging to North Yorkshire based demolition and earth moving company, Peacock Brothers, will also be on show. The Kerax is Renault's 'work horse' designed to operate under the most demanding working conditions, carrying maximum loads with fuel efficiency. Peacock Brother's Renault Kerax 430.32 8x4, has Euro 5 engine, ZF manual gearbox, air con and beacons. It is complete with a lightweight steel body with under-floor tipping gear.

The final attraction on the stand is a Renault Premium 460.25 6x2 LD TML, with Privilege cab and Optidriver+ gearbox. The smart looking truck, complete with tipping hydraulics, is one of Harrogate based bulk haulage contractors, Alfred Hymas Ltd. fleet of tippers and boasts an in cab fridge, diff lock and Alcoa dura-bright alloys.

Renault Trucks is attending Tip-ex in partnership with Renault Trucks distributor, Thompson Commercials who are the largest privately owned Renault Trucks dealer group in the UK. The Group operates throughout the North East with branches in Grimsby, North Shields, Billingham, Boroughbridge, Hull, Sheffield and Boston, supplying and maintaining the complete range of Renault Trucks commercial vehicles. Annual winners of many sales and service awards within the Renault Trucks network, the company has previously picked up the prestigious 'Motor Transport Dealer of the Year' award.