The Dimplex Eco Chico Oil Free Radiator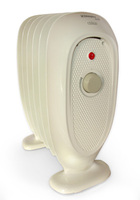 The Dimplex compact Eco Chico OFRB7 oil free column radiator heats a room 25 per cent faster than a 1kW oil filled competitor, providing energy efficient heat whilst creating a snug and cosy living space.
The compact Eco Chico is incredibly light compared with typical oil filled column radiators, weighing just 5.4kg, meaning it can be easily moved around the home. The Eco Chico uses unique oil free technology, pioneered by Dimplex, to offer rapid warm up, ensuring it is a fast and efficient source of heat.
Finished in cream, the eco-friendly column radiator boasts 0.7kW of heat output and offers variable thermostatic control, so you can set it to your ideal temperature. Dimplex also offers a three year guarantee with the column radiator for complete peace of mind.
Approximate price on the high street for the Eco Chico OFRB7 is around £59.99.
For more information, visit dimplex.co.uk.