Retro-chic patterns for all interior styles with Kahrs wood flooring range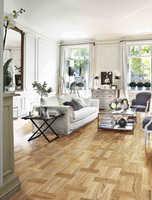 Stately patterns have been reinvented with Kahrs retro-chic wood flooring options. Combining classic styles with modern construction benefits, the new floors bring any room alive with their symmetrical designs and stunning finishes. Pattern options include Dutch box repeats, industry parquet, multi-strips and ship's deck boards, all offered in a range of wood species and finishes.
Unlike traditional patterned floors which were created stave-by-stave, Kahrs patterned floors are laid as one plank and the boards are joined together with a glueless Woodloc joint. Wood options throughout Kahrs collections include oak, walnut and poplar, with natural satin, matt lacquer, nature oil, stained, brushed and bevelled finishes.
All floors feature Kahrs eco-friendly multi-layered construction which uses hardwood down to the joint only, with fast-growing timber below. This design, alongside Kahrs Woodloc joint, provides 75% greater stability than a solid floor, eliminates gapping and promotes fast installation. All designs are suitable for installation with underfloor heating and patterned options - spanning a range of budgets - are included within Kahrs Linnea, Supreme Elegance, Supreme Avenue and European Renaissance Collections. Board sizes include 2426 x 198.5 x 15mm; 2200 x 270 x 15mm; 1900 x 190 x 15mm and 1225 x 193 x 7mm.
For more information on Kahrs extensive range of wood floors, visit kahrs.co.uk.