Getting fit could make you sick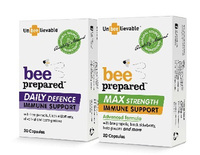 Researchers at Loughborough University have recently stated that training for a marathon or doing regular intense sessions can weaken your immune system and make you up to six times more vulnerable to viruses and infections, compared to those who are not as active! Boost your immune support system during this sporting season with Unbeelievable's award winning Bee Prepared Immune Support capsules.
According to Mike Gleeson, a professor of exercise biochemistry, "in periods following prolonged strenuous exercise, the likelihood of an individual becoming ill actually increases."To stay healthy throughout, the best strategy is to support your immune system year round so that your natural immunity is ready when attacked by germs and viruses.
Bee Prepared Max Strength is loved by the likes of Gwyneth Paltrow! Packed with their signature Bee Propolis, along with black elderberry, olive leaf and their new wonder ingredient Reishi mushroom; containing antiviral, antibacterial and antifungal properties to support the bodies immunity.
Unbeelievable supplements contain the highest quality bee products, from pollen to propolis. Scientific studies of bee propolis have proven that it can be used to fight colds and flu's as well as prevent viral, bacterial and fungal infections. Bee Prepared is also on hand to fight nature with nature! The Reishi mushrooms contained are antioxidant and anti-inflammatory phytonutrients, which can be helpful in reducing those frustrating, reoccurring hayfever symptoms that so many of us suffer from.
Most recently winning 'Best supplement for 2011' in the Healthy Living Awards, UnbEElievable products offer a natural alternative to help keep you fit and healthy without artificial ingredients, additives, GMOs and preservatives; making them suitable for both adults and children alike. Ingredients are sourced in the EU whenever possible and UnBEElievable products are manufactured in the UK.
For more information, visit unbeelievablehealth.co.uk.