Eibach Springs extends contract with Audi Sport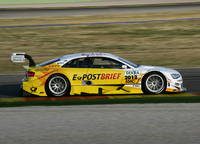 Leading spring manufacturer Eibach has announced that it will be continuing its successful technical partnership with Audi Sport for at least another two years.
The two respected German brands have enjoyed numerous accolades together since the partnership was first formed. No less than four DTM titles have been achieved via this impressive pairing of technical talent, with the 2007, 2008, 2009 and 2011 titles all going to the Ingolstadt-based concern. Every title was won on Eibach's modular ERS competition springs, which form the mainstay of its motorsport portfolio. This diverse and ever-burgeoning range can be found on many of the world's front-running competition cars, from the top-table of F1, right down through WRC, WTC, BTCC and even club-level cars.
Audisport's unique relationship with Eibach has seen several custom-built spring configurations being wound to precise specifications. As both an "Audi Sport Official Supplier" and a technical partner, Eibach not only provides its know-how for the DTM builds but also equips the Audi Sport R8 LMS and R8 LMS ultra racecars, too.
Commenting on the continuing relationship, Eibach's UK managing director Greg Kirby said, 'We are delighted to be continuing our long association with Audi Sport. Our technicians work very closely together, swapping data and technical information, which is always fed back into our other motorsport products and, where appropriate, road car ranges. Here's hoping for at least another two titles in the next couple of years!'
For more details on the ERS range of competition-proven springs, visit eibach.com.