Eibach Skoda Citigo suspension enhancement kit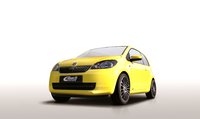 In line with the other VW Group hyperminis, the new Skoda Citigo seems to offer an exceptional blend of ability and affordability. Thanks to suspension giants Eibach, the miniscule marvel can now also be endowed with quite remarkable handling, too.
The Citigo offers VW Group build quality - and 4 seats - from just £7,630. Despite the fact that the car isn't even in UK showrooms yet, Eibach's engineers have been burning the midnight oil to a fully TUV-approved suspension package for the car, prior to its showroom launch.
That Skoda's new range-starter will succeed is not in doubt, but the cost/comfort compromise that is the standard suspension may not appeal to all buyers. For those looking for a more 'focused' performance and an improved stance from the diminutive hatch, Eibach's carefully honed Pro-Kit offers the perfect solution, balancing noticeably improved handling with a compliant ride quality. This impressive feat of engineering is in no small part down to the fact that the German suspension manufacturer has long been the approved accessory and motorsport partner to many companies within the VW Group, granting it unparalleled access to all chassis data throughout the new model's development cycle.
The new Pro-Kit works in perfect harmony with the factory dampers and lowers the car by approximately 20-25mm. A progressively wound spring allows a softer section for every day commuting that pushes into a stiffer section when really throwing the car into the turns – ideal for a car that needs to be all things for all people.
For drivers seeking the ultimate in dynamics and aesthetics, Eibach also offer a wide selection of Pro-Spacers. These are precision manufactured, hub-centring spacers which are machined from aerospace grade aluminium. Available in a wide variety of widths from 12mm, they are the perfect way to increase the track measurement of the car for enhanced steering feel and 'turn in'.
The Pro-Kit retails at £134.78+ VAT and the Pro-Spacer kits start from £75.65 + VAT per pair for the 12mm versions.
For more information on the Eibach range of chassis enhancements, visit eibach.com.