Arm yourself for the BBQ battle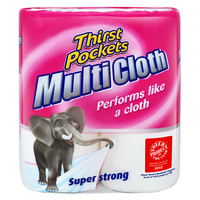 Got your sausages, baps and sauces ready for your summer BBQ? Add Thirst Pockets Multi Cloth to your shopping basket ready to deal with all your al fresco dining demands.
Be it sprucing your outdoor eating tables and chairs with a quick spritz of surface cleaner, having it on hand for mopping up spills or using a few sheets to clean your gunged-up grill after the main event, Thirst Pockets Multi Cloth is the ultimate ally this summer.
How to… Clean your BBQ
For really ground in grime, use a wire brush to get the toughest of last year's dirt off your BBQ. Just give the grill a thorough scrub to get your clean-up underway.

If you don't have a wire brush, use the 'baking method' – simply fire up your BBQ and let the heat burn off the more baked-on grime.

Then, take some vinegar and a few sheets of Thirst Pockets Multi Cloth to clean and polish off all the remaining grease. The concentrated fibres give a cloth-like feel and extra durability – so even just one sheet of the cloth is tough enough to scrub your grill.

Before you then start cooking, use a few sheets of Thirst Pockets Multi Cloth to coat your grill with some cooking oil to stop meat sticking to the bars. Prevention is better than cure!

Finally, when your BBQ is done, simply wipe down the grill with Thirst Pockets Multi Cloth and you'll be all set for next time. The cloth is durable enough to face up to even burnt on marinade, so you'll have no need for any cleaning products or a scourer from the kitchen.
Thirst Pockets Multi Cloth features concentrated fibres for a cloth-like feel and extra durability.
Thirst Pockets Multi Cloth is available from Tesco, Sainsburys, Morrisons and Asda. The MRRSP is £2.39.
Share your BBQ tips and al fresco stories on the Thirst Pockets Facebook page at facebook.com/thirstpockets.
*Thirst Pockets is delighted to have been awarded Product of the Year in the General Household category in the UK's largest consumer voted award for product innovation.