Loire Valley - The Garden of France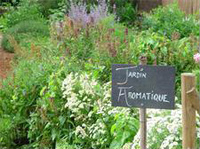 With its mild climate and rich soil, the Loire Valley has long been the Garden of France, especially for orchard fruits and early vegetables. From the coast comes outstanding seafood (oysters, crab and mussels). With such fresh produce, chefs can concentrate on flavour rather than complex sauces. Dishes are light - and healthy!
L'Éveil des Sens: A brand new Michelin Star in Mayenne
L'Éveil des Sens means "Awakening the senses", and Nicolas and Isabelle Nobis have certainly done that. The young couple only opened their restaurant in 2010, but already they are scooping up awards. They have one star in the Michelin Guide that also praises their affordable 28 € dinner menu. Gault & Millau, a rival French restaurant guide, named Nicolas as a "Young Talent for 2011". The couple had previously worked for France's finest chefs, Bernard Loiseau and Georges Blanc.
Le Favre a'Anne: A Michelin Star in Angers
Mathilde and Pascal Favre d'Anne have also collected a Michelin star from Michelin. In a lovely old 19th-century mansion, their restaurant is on the River Maine, looking across at the magnificent castle in Angers. Although his presentation reflects their native Savoy, with slate and regional linens, Pascal's dishes are based firmly on the Loire Valley's superb fresh, local produce. Mathilde is the wine expert, with more than 250 different wines in the cellar. Pascal also worked for a star chef: Marc Veyrat in Annecy.
For more information, visit lefavredanne.fr
Something different!
Back in 2011, Pascal opened his witty version of a fast food restaurant in the heart of Angers. Called VF (the French Way), he has a new take on the hamburger and even on fizzy drinks! His Anjou-style chips get rave reviews; all the packaging is recyclable.
Happy birthday to Vaubernier cheesemakers!
This year, the Fromagerie Vaubernier celebrates its 100th birthday. Making cheeses and butter under the "Bons Mayennais" label, Vaubernier has been an institution in the Mayenne since 1912. Using (of course!), only Mayenne milk, they follow traditional methods, but also experiment. They recently came up with a low-salt version of Camembert, as well as a Camembert, called "le p'tit bio", made from organic whole milk.
For more information, visit bonsmayennais.fr
L'Auberge des Acacias: A rural restaurant in the Sarthe
The kitchen and the garden don't get any closer that at this pretty country house restaurant with its outstanding kitchen garden. With a mere 20 seats, Gerard and Yvonne Chevallier can pamper guests in this tiny hamlet near the famous faïence-making town of Malicorne. As well as vegetables and herbs from the glorious scented garden, the chef gathers wild produce and sources the best from local farms. A rare combination of garden and kitchen!
For more information, visit auberge-des-acacias.fr
Les Tables de Nantes: A guide to the region's best 87
The first edition of the Tables de Nantes guide came out in 2011. The restaurants were all selected by a panel: a winemaker, a travel agent, a journalist, a market gardener and so on. All have a passion for food. The main theme was eating local: Nantes, more than anywhere else in France, has a wide network of quality producers, including market gardeners, fishermen, farmers, winemakers and more. Their "three hearts" logo is used to designate all that is good about eating out in Nantes.
Song Saveur & Sens where Nhung Phung cooks local produce with Asian flair Le Restaurant du Pont where Frédéric Pinheiro creates dishes using local vegetables - cooked with a Mediterranean twist La Raffinerie where Nicolas Bourget lets the quality of local produce sing out
For more information, visit lestablesdenantes.fr
L'Épicerie du Pre in Le Mans:
There is nothing quite like this café/library/cultural centre. In a 16th-century house, close to the old town of Le Mans, you can enjoy simple dishes such as salads, home-made soups and sandwiches, mainly with organic and Fair Trade ingredients. Take a book and leave one in exchange; sit on the terrace, explore L'Épicerie du Pré, a garden with herbs, fruit trees, edible flowers and heirloom vegetables.
For more information, visit epicerie.pagesperso-orange.fr