Jaguars set to slink into Sandown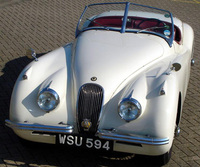 It's time for Sandown Park racecourse to turn its thoughts to a different sort of horsepower – in fact, to a different sort of animal – as the 'big cats' arrive in the form of the Jaguars entered for Barons' annual Jaguar Heritage Sale on Tuesday May 29th.

Heading the early entries is a magnificent 1954 XK 120 Roadster. This beautifully-presented machine was originally built for export to the USA, so is left-hand-drive. It was repatriated to the UK in 1991, then comprehensively refurbished by leading XK specialist Guy Broad. It has since been used only sparingly on the roads in Britain and France. £45,000-£55,000.

The 1968 MkII 3.8 Sports Saloon is a truly unique car - because it is equipped with an engine block that never actually made it into production. Jaguar was experimenting with a single timing chain, and fitted a number of cars with single chain heads, but these were removed from all but one 3.4 MkII and one 3.8, and replaced with normal heads before the cars were released for sale. This MkII is that single 3.8. It was sourced by Jaguar 'guru' Ken Bell on behalf of the vendor, and has been the subject of a comprehensive, two-year refurbishment. £34,000-£38,000.

The 1956 2.4 saloon has been in the same family for over 40 years, being handed down from father to son. It underwent a ground-up restoration, which was featured in Jaguar Enthusiast magazine between June and Oct 1990, and the car went on to win many concours competitions and be featured in Country Living, Jaguar Quarterly, Classic and Sportscar and Classic Cars magazines. £16,500-£19,000.

The 1972 S3 E-type FHC on offer is another 'father to son' car, and spent its first 40 years in the same family. This 'time-warp' E-type has covered just 34,109 miles, and carries an estimate of £25,000-£35,000.

What do you give the Jaguar collector who has everything? How about the poster commissioned by Jaguar Cars and created by Roy Knockolds in celebration of Jaguar's 1955 Le Mans success? This is the same design that was reproduced on the front of the original D-type sales brochure. The poster at Barons is a rare, large format example (30.5" x 41.5") and carries an estimate of £1,500-£2,500.

Traditionally one of Barons' most popular sales, the Jaguar Heritage Sale is also a personal favourite with Barons' directors, as they are Jaguar aficionados themselves.

"Jaguar is a hugely popular marque with collectors at all levels," said Barons' MD Laurence Sayers-Gillan. "Whether you're in the market for a family saloon such as a MkX, a sporting classic such as a MkII or that quintessential British sports car, the E-type, there will be a Jaguar to suit not just your taste but also your budget.

"There is a tremendous loyalty towards the marque, and it's no surprise that many collectors – indeed, like myself – can't imagine their garage without at least one Jaguar in it!"

For those not yet bitten by the Jaguar bug, or who simply want to add another marque to their collection, Barons' May 29th sale will also feature a range of other makes of car. This element of the sale is headlined by an outstanding, 1986 Rolls-Royce Corniche Drop Head Coupé, which has just returned to UK from Cyprus, where it formed part of a large private collection. £38,000-£48,000.

There's also a 'better than new' 1969 Mini Cooper. This fabulous little car was the subject of a nut and bolt rebuild into a new, 1980's, BMC shell in 2004/2005. Since the rebuild it has been dry-stored and has never been exposed to rain or bright sunlight, not used as a means of transport but only as a show car. £17,000-£20,000.

Finally, the sale also features a charity lot, in the form of a set of signed Team Lotus racing overalls, originally worn by Formula One driver Heikki Kovalainen, which will besold in aid of the Chernobyl Children Lifeline Bus Fund, with all proceeds going to the charity. Estimate £500-£3,000.

For further information, or to consign a car to the sale, visit barons-auctions.com.