Arctic adventures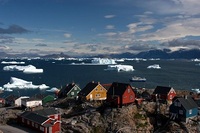 Quark Expeditions, the leader in polar adventure, is pleased to announce the company's Arctic 2013 season, featuring icebreaker adventures to the North Pole and luxury ship expeditions to Spitsbergen, Greenland and Iceland.
Many of the Arctic regions most sought after destinations are coming back for the 2013 season. Two North Pole voyages departing June 19 and June 30, as well as the "Three Arctic Islands: Iceland, Greenland, Spitsbergen" trip named as one of "50 Tours of a Lifetime" in 2011 are highlights of the season.
New Expedition Added
New to the Arctic 2013 season is the "Greenland Explorer: Valleys and Fjords" expedition, which follows the dramatic coast of the world's largest island, Greenland. Passengers will get to visit the UNESCO World Heritage site, the Illusiat Ice Fjord, one of the largest and fastest moving glaciers. It travels approximately 100 feet per day while dropping huge icebergs into its narrow coastal inlets. Explorers will also encounter indigenous Greenlandic communities as well as the rich animal life surrounding this beautiful country, including many varieties of seals, whales, dolphins, polar bears and sea birds. The journey takes passengers to two of the world's most northern capitals, beginning in Ottawa and ending in Reykjavik –the reverse itinerary also available. Prices start from £4,120 for 14 and 15 day itineraries for departures in August 2013.
Ships
For the first time in 2013, Arctic passengers will be able to travel aboard Quark's luxury all-suites adventure ship, the Sea Spirit, on any of the Spitsbergen, Greenland or Iceland itineraries. Sea Spirit, previously used exclusively in Quark's Antarctic season, boasts larger "suite-sized" cabins, in addition to private facilities and exterior views in every cabin.

No Arctic season would be complete without the 50 Years of Victory, a Russian scientific ship that will be used to chart the path to 90°N, making its way through the ice to the North Pole. Victory is the most powerful icebreaker on Earth and has her own helicopter onboard to help travelers view the northernmost part of the world from every majestic angle. Quark is one of only two operators in the world who take travelers to the North Pole, and has been doing it for 22 years. It's a once-in-a-life-time journey with helicopter flights above the Arctic Ocean included and optional aerial sightseeing by hot air balloon is on offer.
Book Early & Save Quark Expeditions is giving those who book by 30 June 2012 a free flight, hotel night accommodation and transfers from Helsinki to Murmansk (save £1,070) on one of two North Pole voyages in 2013. Prices start from: 14 days (13 nights), from £14,190 for twin occupancy with one night in Helsinki on B&B, transfers, group helicopter trips, three meals a day, shore landings and on-board lectures.
Quark Expeditions is also offering two family-friendly departures (8 and 9 days) to Spitsbergen leaving Longyearben on 6 June and 28 July 2013. The "Introduction to Spitsbergen: Polar Bear Safari" voyages will offer special itineraries for those travelling with children aged 12-17.
In addition, The Sea Spirit offers a 20% discount on all 11 departures of the six Arctic 2013 itineraries when passengers book by 30 June 2012. Prices start from: 11 days (10 nights), from £2,530 for triple occupancy (save £1,584) and includes shore landings, hiking and snow-shoeing and on-board lectures. Flights are additional and available from London Gatwick, Heathrow, Stansted, Edinburgh, Liverpool and Manchester with Ryanair, Norwegian, British Airways, SAS and bmi to Oslo then onto Longyearbyen with SAS.
This is also the first time that Quark is offering a lowest price guarantee – no other promotion this season will provide as much savings on a trip to the Arctic.
Introduction to Spitsbergen: Polar Bear Safari – 8 & 9 days from £2,530
Spitsbergen Explorer: Wildlife Capital of the Arctic – 11 days from £3,170
Spitsbergen Circumnavigation: Big Island, Big Adventure – 13 days from £4,120
Three Arctic Islands: Iceland, Greenland, Spitsbergen – 14 days from £4,430
Greenland Explorer: Valleys and Fjords – 14 and 15 days from £4,120
East Greenland: Northern Lights – 14 days from £4,120
North Pole – 14 days from £14,190

For further information, visit quarkexpeditions.com.