Low price family homes in North Manchester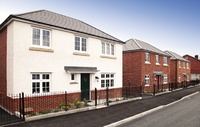 Families will have room to grow and money to spare with a move to a brand new Redrow home in North Manchester.
Between three developments in Moston and Harpurhey there's plenty to choose from, with two, three and four-bedroom homes available in a variety of styles. And with the help of an equity loan scheme, customers could pay at least £26,000 less than the full market value.
It's great news for first time buyers, especially those with young families who are looking to step onto the property ladder.
Julie Harper, area sales manager for Redrow Homes (Lancashire), explains: "The average first time buyer is now well into their 30s and, rather than being a single person or young couple looking to fly the parental nest, they are just as likely to be a family with young children trying to escape the rental trap.
"Setting up home and raising a family are two of the most expensive things in life and it can be tricky enough to save for a deposit while paying rent, without factoring in the cost of bringing up children. But thanks to our 'easi:buy' scheme, those who long for a home of their own could find it's easier than they anticipated as they'll need to borrow less and savings of around £5,000 could be enough to secure a three or four-bedroom family home."
Redrow is currently building new homes at Hanson Gardens, off Lightbowne Road and Kenyon Gardens, in Kenyon Lane, in Moston while Woodville Gardens can be found off Moston Lane, in Harpurhey.
Every home is offered with the potential to defer 25% of the initial purchase price for up to 10 years through an equity loan scheme administered by Manchester City Council. For example, a four-bedroom home on the market at £132,995 could be snapped up for just £99,746 up front, with the remaining share covered by the equity loan.
"The chance to defer paying up to a quarter of the price of a brand new home is an attractive prospect for purchasers; it will help their money go further and allow them to buy a home to grow into and not out of," Julie added.
"Our homes in Moston and Harpurhey have been designed in line with the City Council's 'homes for life' specification. Traditional on the outside, inside they boast extra large master bedrooms and living spaces, plus special measures to make them more energy and water efficient, and they will be fully accessible and easily adaptable for occupation by a disabled person."
The Moston and Harpurhey areas have recently benefitted from a major programme of regeneration which has included investment in schools, a library and children's centres. The neighbourhood is set to receive a further boost with the opening this summer of two new tram stops offering frequent services to the centre of Manchester, enabling residents to enjoy the benefits of city living without the hefty price tag.
For more information about Redrow homes in Moston and Harpurhey visit the sales office at Hanson Gardens, off Lightbowne Road, or Woodville Gardens, off Moston Lane.
Alternatively see redrow.co.uk.