Give your property kerb appeal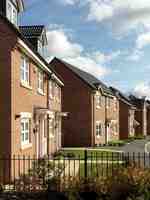 It takes potential buyers no more than eight seconds to decide whether or not they like a house, so ensuring your property has instant kerb appeal can be a deal maker or breaker.

Regional sales manager for house builder Miller Homes East Midlands, Paul Walters and Gardening Expert at Mower Magic, John Hall, have teamed up to offer vendors these top tips on how to maximise their property's outer appearance.

1. It is really important that the property looks clean and tidy so make sure your windows are cleaned on a regular basis and that curtains and blinds are presentable and open. Rotten window frames should be replaced and windowsills should be clean with no ornaments, unless it's something simple and clean such as a vase of fresh flowers.

2. Ensure that the garden is litter free and that paths and driveways are swept. Remove any weeds from the flowerbeds to present a well-groomed exterior. This gives buyers the impression that your interior will be as well looked after.

3. In the evening, ensure there is enough lighting for the viewers to see where they are going. A nice lantern or wall light can add character and warmth to any home.

4. Add simple touches to the front such as hanging baskets and flower pots and make sure they are healthy or in full bloom. If they're looking tired or dead, remove them completely. Remember even the smallest outdoor space can be spruced up with pots and window boxes.

5. Try and avoid vehicles parking outside the house, this blocks the street view and also may restrict parking, leading buyers to believe that this would be a problem for them if they brought the house.

6. Try and make sure the colour of your door, garage and windows match. Strong, bright colours are popular for front doors at the moment but black is always a safe bet.
7. Keep any lawned areas mowed with neat edges and cut hedges right back to avoid giving the impression they would be high maintenance. Don't forget to do the same in the back garden as well, long and overgrown gardens are not an appealing site.
8. Make sure your front door is clean and polish any brass work such as doorknobs, letterboxes, handles and locks. Don't forget to make sure your house number is well displayed so potential buyers can identify your house and ensure you have a working doorbell.