'Down under' hopefuls urged to act quickly for a smooth move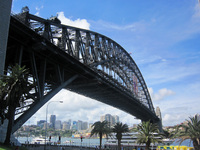 Crown Relocations, a leading global mobility and relocation specialist, is urging UK professionals and students thinking about moving to Australia to act fast before the migration rules change. On 1 July 2012, Australia will move to a new visa application process, which could make it more difficult to obtain permanent residency.
The new two stage process – called SkillSelect – will mean people wishing to move 'down under' will be required to submit an electronic Express of Interest (EOI), demonstrating their work and English language skills and qualifications. Based on this application, the Australian government will then offer selected individuals the opportunity to apply for a visa electronically within a two month period.
Kimberley Millhouse, Senior Move Manager for Crown Relocations, said: "Australia is a hugely popular choice for people moving abroad and with the demand for permanent residency so high, the Australian Government is now able to be more restrictive and selective with whom it grants visas to. The new SkillSelect process will mean that, unlike the current system, applications will be filtered down ensuring the best candidates will be matched to Australia's labour market requirements, therefore making it slightly harder to qualify.
"For anyone seriously thinking about moving to Australia to work or study, I would urge them to apply now, before the introduction of SkillSelect on 1 July. All those lodged prior to this date will be processed though the current visa regulations so a timely and accurate application is of the essence."
A new points system will be introduced with applicants being awarded for recognised overseas qualifications and work experience in order to identify the most desirable migrants for the country's required skills and professions. Only those with a points score if 75 or more may qualify.

For more information about Crown Relocations' services, visit moveoverseas.co.uk.