Part exchange makes life easy for the Spiers brothers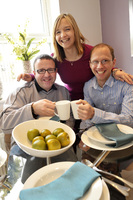 If you're looking to move but are struggling to sell your current home, then look no further, as Taylor Wimpey Midlands can help with its Part Exchange scheme*, available at Lavender Fields in Evesham.
Brian Spiers, who moved to Lavender Fields last year using the scheme*, couldn't be happier. Brian's brother Adam was the first to secure a plot at Lavender Fields and loved it so much he convinced Brian to move too. Having a property to sell, Brian was convinced it would take forever to move to his dream home but part exchanging with Taylor Wimpey meant he moved in within a matter of months and has even moved in before his brother!
Brian comments: "I hadn't really considered moving until my brother decided to and mentioned going to have a look at the properties available. I'd always thought Lavender Fields was stunning whenever I'd driven past it but presumed the homes would be out of my price range. Seeing how easy it was for Adam and how helpful the sales executives had been made me reconsider my own situation. Fortunately for me the home I wanted, the three bedroom Wye, was already built and as I was able to part exchange my current property. I was all packed up and moved in within a few months.
"Adam had already been lucky enough to sell his home so the idea of moving was much more attainable for him. As I still had my current house, using Taylor Wimpey's Part Exchange scheme was life changing! I'd definitely recommend it to anyone trying to move."
Adam comments on his own move: "Having lived in a one bedroom flat all my life I was desperate for something with more room. At the time I was pretty sure buying a house wouldn't be possible so I only really went to see what the homes were like at Lavender Fields. I'd heard such amazing things about the development so it wasn't a huge surprise to me when I found my perfect home.
"I'd looked at a lot of second hand properties in the area and they also looked like they would cost a lot to renovate and make my own. The houses at Lavender Fields were the complete opposite, they were clean, spacious and the fact that they came with a ten year NHBC warranty gave me peace of mind."
Anne Wallace, regional sales and marketing director for Taylor Wimpey Midlands, said: "It's fantastic that Brian has moved to Lavender Fields and, as he highlights, we have many options for house hunters who are struggling to move. It's fantastic that both Brian and Adam are pleased with their decision to move and we're delighted that their home buying experience with Taylor Wimpey has gone so smoothly. So if you're looking to find your dream home, are struggling to sell your current property or would just like to see what's available, why not pay us a visit to find out more?"
Under the Part Exchange scheme* Taylor Wimpey buys your current property taking the stress out of the home buying process and making broken chains a thing of the past. As the housebuilder purchases your home at a price agreed by all parties, you don't have to worry about paying any estate agents fees. This gives you extra money to spend on the more important things, like furnishing your new home!
Designed to appeal to a range of house hunters, Lavender Fields offers a range traditional three, four and five bedroom family homes. The new development features plenty of green open spaces for residents to enjoy, along with footpaths, cycle ways and a children's play area.
The development was so attractive to the Spiers family that Adam and Brian's sister, Diane Hayesman, is now looking to move there also. She states: "I went with Adam originally to look at a home for him but ended up loving the development so much I knew I'd move there eventually. The housetype I want, the Heydon, hasn't been released yet, but as soon as it, is my family and I will be joining my brothers and moving there and we can't wait!"

Currently available is a collection of three, four and five bedroom homes with prices starting from just £179,995.

For more information about the homes available at Lavender Fields visit the marketing suite, open daily from 10am – 5pm. Alternatively, visit taylorwimpey.co.uk.
* Subject to terms & conditions.