Acacia Africa launch "Hook Up & Go!" Facebook app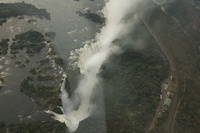 "Hook Up & Go!" is a new Facebook app from Acacia Africa. Currently, the adventure specialist's social networking page contains a host of useful albums featuring everything from overland life to independent reviews, the additional app now catering to the growing number of fans looking to meet online before they hit the road.
Leanne Haigh, Project & Development Manager at Acacia Africa, comments "We already have an online booking system, but our new Facebook app allows us do even more for adventurers choosing to book with us. Once they've connected they can share travel tips on everything from packing to personal points of interest, and even club together for optional activities on their trip, for example, taking a flight over the Okavango Delta."

While Acacia Africa already guarantees over 600 departures a year, its pre-booking "anytime" feature is ideal for travellers hoping to generate interest in and quiz others on specific trips. Outside of city stays, the tour operator's complete portfolio is included, overland expeditions, small group safaris, short safaris & treks and dive itineraries listed on the choice of preferences.

Acacia Africa is currently offering 20% off selected scheduled overland departures up to 30 June, with savings of up to £189pp on the 25-day Desert Tracker . Now from only £1,344pp (including local payment) or from £54pp per day. Departing 09 June. Starts Cape Town – ends Johannesburg.

The above price is no single supplement and includes camping accommodation, transport, most meals and services of a tour leader/guide. Discount excludes local payment and price excludes return flight. All prices subject to availability. For more information, visit acacia-africa.com.