'Early birds' given opportunity to save for a house deposit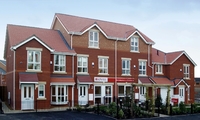 A hotly anticipated new phase of homes is 'coming soon' to Lovell's Church Fields development in Liverpool.
The housebuilder is giving home buyers the opportunity to make an 'early bird' reservation on their preferred property now, and start saving for their deposit with help from Lovell, through its 'Bank and Build' scheme.
Early bird reservations can be made ahead of the official sales release at the end of May, to give homebuyers the chance to save and Lovell will match purchasers' 5% deposits pound for pound.
Already more than 30% of the highly sought after new phase of homes have been reserved. It includes some brand new house types for the Church Fields development and a new show home will open at the end of May.
Ideal for first time buyers, Lovell's Bank and Build incentive is a savings scheme, which enables customers to secure a new home then save for their deposit while it is being built.
A mortgage specialist helps buyers to decide which home they can afford and advises exactly how much deposit they will need. A monthly savings plan is then set up and once the potential purchaser has saved 5% of the purchase price, Lovell will match it, to give them a 10% deposit.
Elaine Taylor, regional sales manager for Lovell, said: "This is a fantastic scheme for first time buyers who may have been struggling to save for the full deposit. Whether they already have some savings, or haven't started yet, we'll help them reach their target quicker, and they could be in their dream home sooner than they think."
Purchasers arrange a mortgage in the usual way, subject to terms and conditions, and contracts will be exchanged on the condition that the 'Bank and Build' deposit payment plan is maintained.
Lovell has created a fantastic community of stylish homes at Church Fields, close to Liverpool South Parkway Station and within easy reach of Liverpool Airport and the city centre. The final three-bedroom homes is still available on the current phase priced from £146,995.
For more information about Lovell and its help for first time buyers in Liverpool visit lovell.co.uk.