Horse power the focus of new UK attraction at East of England Show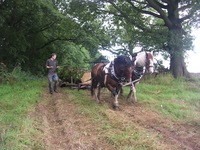 A brand new attraction for this year's East of England Show charts the role that horses have played in the farming, agriculture and forestry industries over the years.
The British Festival of the Working Horse is the first event of its kind in Britain, and will be premiered at the regional family event on July 6, 7 and 8.
HRH The Prince of Wales is a patron of the festival, and visitors to the Show at Peterborough's East of England Showground can expect many heavy horses in action throughout the three days.
Organised by the British Horse Loggers, the major festival will be held in its own 'village' at the Show – packed with displays and parades to celebrate the important role that working horses still have today.
There will also be the opportunity to find out more about rural and associated crafts, including saddle and harness making, as well as seminars and workshops.
Doug Joiner, one of the organisers of The British Festival of the Working Horse, said: "This is going to be a real treat for visitors to the Show, who will have never seen anything like this before.
"It is a brand new attraction, not only for Peterborough and the region, but for the UK. We will have workshops, crafts and demonstrations of just what fantastic work these wonderful horses do in a host of industries – from horticulture and forestry, but also tourism and leisure.
"We really want the Festival to champion horse logging as viable, vibrant and credible."
For more details about the Festival itself, visit britishfestivaloftheworkinghorse.co.uk.
This year's East of England Show features a packed programme of events – many of them new for 2012.
These include:
A 'village' style layout, leading visitors to areas of specific interest – including retail, livestock, food hall and equestrian.

The popular Championship Dog Show.

An impressive food court displaying tasty local and regional produce.

A packed programme of events for schoolchildren, including the Queen Mother's Handwriting Competition, the chance for budding chefs to make their own pizza and the opportunity to get up close and personal with cuddly animals!

A visit by the Heart FM Angels on Friday

An open air concert – featuring X Factor finalists Marcus Collins and Janet Devlin – on the Saturday evening.
For details and ticket information about the Show, visit eastofenglandshow.co.uk.