100 bonfires light up Providence's WaterFire Festival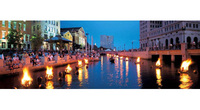 On select evenings from May through October 2012, the WaterFire Festival lights up the charming capital city of Providence, Rhode Island.
The award-winning art installation by Barnaby Evans, installed in three rivers which merge in downtown Providence, is a powerful art experience celebrating earth, air, fire and water. It has been viewed by more than 10 million visitors worldwide.
Amidst the flickering light of over 100 sparkling bonfires, visitors stroll through Waterplace Park and enjoy enchanting music and entertainment acts before dining at one of the many fantastic restaurants in downtown Providence or Federal Hill. WaterFire is a free event put on by Providence volunteers.