Prom Art welcomes BT Olympics 2012 artist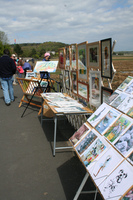 The biggest open air arts and crafts gallery in Cumbria will be welcoming BT Olympic 2012 artist Christine Rooney when its sets out its stalls on Sunday, May 27, giving visitors the chance to find out more about the Olympics through the eyes of an artist who has already had access to some of the venues and preliminary events.
Prom Art, which is a free-to-attend arts and crafts extravaganza taking place on the glorious promenade at Grange-over-Sands, features between 80-100 professional and amateur arts and crafts specialists and enthusiasts displaying original work ranging from paintings, jewellery and ceramics, to wooden toys, drift wood and fused glass.
Christine Rooney will be one of the May exhibitors, at an event which takes place on the last Sunday of every month between April and September, subject to weather conditions. Christine was selected as one of BT's 10 official artists for the London Olympics and is officially one of its 'storytellers', depicting the world of sport and competition through art, as well as capturing the spirit of the Games on canvas.
Christine, who was the 'Simply the Best Winner 2011' in the Leisure Painter awards will be displaying some of her original painting, Giclee prints and cards, which draw inspiration from her childhood and earlier years in Africa and feature an explosion of vibrant colours and lively designs, whether the subject is a seascape, landscape or idyllic harbour scene. Her Olympics work can be viewed at btlondon2012.co.uk.
With around a third of artists travelling over 50 miles to reach Prom Art, this is a not-to-be-missed event, whether you are seeking a special piece for the living room, or some innovative and eye-catching jewellery.
Gathering round the gazebos and stalls, whether buying for yourself or hunting for gifts, is just part of the fun of Prom Art, which is also all about fresh air, sea views and time spent over coffee in one of the many cafes and eateries in Grange-over-Sands.
New to Prom Art 2012 are artists such as painter Jefferson Conway from Haslingden, artist Jackie Hadwin from Coniston, textile and craft specialist Brenda McKenna from Barrow, potter Phil Lubelski from Grange-over-Sands, jewellery maker Susan Brophy from Kendal and fabric lampshade crafter, Clare Dent from Ulverston.
With something for all the family and a vibrant and friendly atmosphere, the relaxed event, which encourages visitors to browse at their leisure, is going from strength to strength and attracting thousands of visitors each year. Visitors can enjoy all that is great about Prom Art between 9.30 am and 4pm on May 27 and find out more at promart.info.