Step back in time at the 'Classic & Vintage Commercial Show'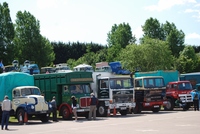 Visitors can step back in time when the Heritage Motor Centre hosts the fifth 'Classic and Vintage Commercial Show' in conjunction with Kelsey Publishing next month. The two day show, which is the largest classic commercial show in Europe, will take place on Saturday 9 & Sunday 10 June from 10am – 5pm. Thousands of visitors from all over Europe are expected to converge on this nostalgic show which will feature hundreds of classic and vintage commercial vehicles prior to 1985.
Along with the Kelsey Publishing trade stand, there will be over 60 commercial vehicle/transport related trade stands outside and over 10 indoor traders selling vehicles spares, photographs, die-cast models, brochures and tools amongst other things. Visitors can also wander around the indoor model show featuring over 160 tables of models on display including kit built or scratch built models in different scales. There will also be a vast array of working radio control models inside and outside the museum.
Emma Rawlinson, Event Executive for the Heritage Motor Centre stated "We're delighted to be hosting the Classic and Vintage Commercial Show for the fifth year enabling visitors to admire these amazing nostalgic vehicles. This event is a real step back in time and fascinating for families. Not only can you see different types of commercial vehicles from a small Morris Minor Van through to the large Scammell Heavy Haulage Tractors, but you can also find a brilliant bargain at the trade stands".
A one day advance ticket costs £11 for adults, £5 for children and £30 for a family. A two day advance ticket costs £16 for adults, £10 for children and £46 for a family. Camping is available. Event prices apply both days. Gift Aid Season tickets, Tesco Club cards or any other promotional offers are not valid on this day.
The Classic & Vintage Commercial Show is just one of many exciting and unique motoring events held at the HMC in 2012. To find out more information visit the website at heritage-motor-centre.co.uk.