Park View homes in Longbridge score highly with first time buyers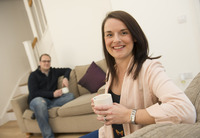 Bucking the national trend, St. Modwen Homes reports that the profile of nearly 45 per cent of its visitors at Park View in Longbridge is first time buyers looking to get out of the rental market.
A healthy property market needs around 40 per cent of house hunters to be first time buyers but according to the National Association of Estate Agents (NAEA) this figure currently stands at 24 per cent. Statistics also indicate that the number of people aged under 35 and renting has more than tripled to 47 per cent since the late 1980s (figures recorded by Resolution Foundation).
Rebecca and Nick Forthergill, aged 33 and 31 respectively are one such couple that visited Park View with the intention of purchasing their first home and leaving the rental market behind. After viewing the homes on the former MG Rover site, the couple went on to purchase a two bedroom Cofton house, which start in price from £149,500.
Rebecca, who previously rented a three bedroom house in Bournville with her husband Nick said: "Nick and I had been renting properties for a long time and we both felt that it was time to try and get onto the property ladder and make an investment for our future.
"Being a first time buyer meant the whole process was completely new to us but we were surprised at just how simple everything was. From the minute we stepped foot into the show home at Park View, the superior build quality really stood out to us, it was much better that the other homes we had seen and the site's location next to Cofton Park was ideal.
"It's a great feeling to have actually purchased a property and we have already put our own floors in every room to differentiate the spaces, going with a modern theme to suit the design of the house. It's fantastic to finally be able to decorate a home to our tastes!
"The kitchen is fast becoming our favourite place. There's so much useable space and the modern units bring a really light and airy feel to the room. We are both so pleased to have finally left the rental market behind and are looking forward to planning our future at Park View."
All the homes at Park View have been built to a high specification and come with Electrolux kitchen appliances, designer bathrooms with porcelain wall and floor tiles and spacious living areas as standard.
Neil Simpson, residential sales and marketing director at St. Modwen Homes said: "Purchasing a new home has always been a big decision for first time buyers but in the current climate it is understandable that people are even more hesitant about deciding if buying a property is the right decision.
"The footfall of first time buyers at Park View is much higher than is recorded at other new developments and I hope that reflects the dedication that the team at St. Modwen Homes has in helping younger house hunters find their dream home, with as little hassle as possible!
"I'm very pleased that Rebecca and Nick decided Park View ticked their boxes as an investment for the future and I hope many more people will feel the same."
Park View is a collection of individually designed, luxury apartments and houses which benefit from their adjacent position to the 135 acre Cofton Park. 75 per cent of properties have now been sold at the development.

The Park View show homes are located off Lowhill Lane, Longbridge, Birmingham, B45 8DE. More details on this new residential development can be found at parkview-longbridge.co.uk.