Feed four for £5 each at Domino's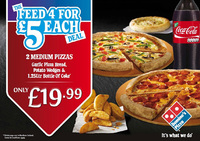 Domino's Pizza, the pizza delivery expert, has launched a tasty new national deal to feed four people for just £5 each.
Perfect for family pizza-eating occasions, the new deal offers two medium pizzas, a garlic pizza bread, potato wedges and a 1.25ltr bottle of Coke for £19.99.
Available in all UK stores, the deal is running daily so it's ideal for family gatherings in front of the TV, great nights in with friends or even a right royal street party with neighbours (Domino's boxes are red, white and blue too if you fancy being extra patriotic!).
Order the 'Feed four for £5 each' deal at dominos.co.uk, tap the iPhone, iPad, Android and Windows Phone 7 apps or call your nearest store.