Top artisan bread makers join The Cake & Bake Show line-up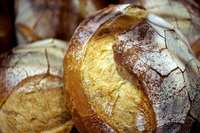 This week The Cake & Bake Show is celebrating the Real Bread Campaign's Real Bread Maker Week (May 7-13) by unveiling an exciting line-up of artisan bread makers who will be demonstrating the art of real bread at the show and joining the likes of Paul Hollywood, Richard Bertinet and Patrick Moore at the event.
Real Bread Campaign ambassador Tom Herbert will be bringing his baking prowess to the show. Tom is a fifth generation baker and runs Hobbs House Bakery, which has been a family business since it opened in 1920. Tom's passion for his craft contributed to the huge success of his Channel 4 debut series with his brother Henry, The Fabulous Baker Brothers.
The team from School of Artisan Food will be hosting a demonstration at the show. The highly respected cookery school is unique in offering the UK's only intensive career-orientated professional programmes.
Visitors can look forward to seeing Duncan Glendinning and Patrick Ryan, two of the team behind the award-winning eco-artisan bakery, The Thoughtful Bread Company, and authors of Bread Revolution, in the Bakery theatre kitchen.
Dean Brettschneider, a world-renowned baker with bakeries in several countries including New Zealand and Singapore, will be bringing his international experiences to our Bakery.
For visitors looking for a more intimate breadmaking experience, there's the Classroom area. Ben Mackinnon of the popular East London bakery, E5 Bakehouse, famed for its organic sourdough, and Paul Barker, a Master Baker and active member of the Real Bread Campaign, who spends a lot of time teaching breadmaking in local schools and was also an advisor on the Great British Bake Off, will be joining the likes of Aidan Chapman and Peter Sidwell as Classroom Experts.
The team at the Cake & Bake Show is very proud to be working with and bringing together so many advocates of traditional, high quality real bread at the show. With demos, tastings, workshops, a food market and equipment stands, the Cake & Bake Show 2012 offers everything the home baker, amateur enthusiast or professional baker needs. Experts to enthusiasts alike will come together for a weekend of guaranteed eating, encouragement, education and entertainment.
thecakeandbakeshow.co.uk
Dates: 22-23 September 2012
Venue: Earls Court, London