Get off the blocks in the Windermere Relay with a Lakes Aquarium visit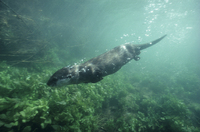 Lake District visitor attraction, Lakes Aquarium, has linked up with five other attractions, to foster an Olympics spirit in the Lakes this year through a special family-focused challenge for summer 2012 that will reward both tortoises and hares competing in a Peter Rabbit Windermere Relay.
Lake District visitors can be in the running for fabulous Gold, Silver and Bronze prizes, if they collect stamps on a 'relay card'. Competitors must collect at least four stamps from four of the participating attractions. They can choose any starting point for their stamp collection, with the proviso that they must complete their challenge by posting their card at the World of Beatrix Potter in Bowness.
The Peter Rabbit Windermere Relay starts on June 30 and ends on September 2 2012. Entrants can collect their stamps as fast or as slowly as they wish, with some expected to tear around and collect their stamps over a week or weekend and others adopting the slow and steady wins the race motto, collecting stamps over the course of several visits.
The great news is that a stamp can be collected without paying to enter the attractions, though missing out on the fun offered by each would be a shame.
Participating attractions are: The World of Beatrix Potter, Lakes Aquarium, Windermere Lake Cruises, Lakeside and Haverthwaite Railway, Brockhole – The Lake District Visitor Centre and the Lakeland Motor Museum.
Making Lakes Aquarium the starting point makes sense. The attraction has an Olympics theme running during the school summer holidays, but always provides an experience involving amazing swimming feats and artistic and balletic displays under water, diving exploits worthy of Tom Daley and aerial gymnastics.
The aquatic skills belong to the Oriental otters, which swim to depths of 3.2 metres in the amazing underwater tunnel, accessing their watery paradise from their 'diving board'. Visitors can also see fascinating diving ducks foraging for food underwater. Gymnastics come from tiny pygmy marmosets, swinging between tree branches and performing twists and turns, which always thrill visitors.
Lakes Aquarium's other advantage as a relay starting point is its Lakeside location, on Windermere's southern shore - shared with both Lakeside and Haverthwaite Railway and Windermere Lake Cruises. A family could collect three of their four relay stamps there in just one day. Additionally, there is a bus service from Lakeside to the Lakeland Motor Museum – another stamp collection venue.
Great value combined tickets are available for those wishing to visit Lakes Aquarium and one of its neighbouring attractions, so there are lots of reasons to both collect stamps and enjoy the experiences offered by each.
The prizes in the Peter Rabbit Windermere Relay are well worth winning. The Gold prize is a family stay for two adults and two children at the award-winning Abbey House Hotel, Barrow-in-Furness, on a bed and breakfast basis, with afternoon tea thrown in. The Gold winner also gets free entry to all six attractions and £200 spending money.
The Silver prize is a family ticket to the new Brockhole Treetop Trek Adventure experience near Windermere, a hamper of goodies and free entry to the six participating attractions. The Bronze winner will receive a hamper of goodies and free entry to the six attractions.
Take up the baton and enter the relay this summer. You never know your luck and by moving around, you will discover fantastic scenery, find out more about the attractions and have great fun as an energetic relay participant!
Visit lakesaquarium.co.uk for more details about your ideal relay starting point (as from June 30) and the tickets and offers available.