Whitewater rafting in West Virginia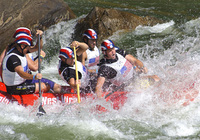 News for adrenaline junkies, rafters and kayaking fans, West Virginia's has been voted one of the top US whitewater rafting destinations with two locations in the top 5, according to Discovery Channel.
The New River is among the top three and described as a river which speeds up, leading into a roller coaster of Class III-V rapids! It is the second oldest river in the world and drops 240 feet over a 14 mile stretch through a sandstone gorge. The rapids on the New River range from Class I to Class V, great for beginners and skilled paddlers alike. This river is a tourist attraction with its New River Gorge Bridge which is one of the highlights along the serene parts of the river, amidst the Appalachian scenery.
In the top four is the Gauley River, which merges with the New River, a thrilling white water river that the National Park Service calls "one of the premier whitewater runs in the world. Known as "the Beast of the East" and with more Class IV and V rapids than any other eastern river, the Gauley offers one of the most intense experiences in commercial rafting.
West Virginia is home to some of America's best whitewater rafting, attracting over 200,000 rafters each year with six main rivers for visitors to choose according to ability and challenge. These include the Gauley, the New, the Cheat, the Tygart, The Potomac, and the Shenandoah Rivers.
Located in northern West Virginia are the Cheat, Tygart, Potomac, and Shenandoah Rivers offering scenic views and exhilarating adventures, while the Shenandoah (in the Eastern Panhandle) and Potomac are the calmer of the rivers, and therefore particularly great for families and beginners. Whether for a day or multi-day trip, there are over 20 outfitters that offer rafting trips on the rivers.
For more information, visit wvtourism.com.