Don't pick up more than your luggage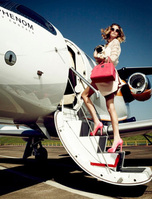 Every year thousands of us get away to enjoy a relaxing holiday, and while we can't do anything about the long queues and crowded airports away, we can prevent picking up those nasty bugs. Award-winning UnBEElievable NEW Bee Prepared Max Strength and Daily Defence capsules help to ward off infections, because the last thing you want while away is being ill.
Bee Prepared's natural immune boosting ingredients include their signature Bee Propolis, along with black elderberry, beta glucans and olive leaf. While new Max Strength additional contains wonder ingredient Reishi mushroom for its antiviral, antibacterial and antifungal properties to support the bodies immunity.
Unbeelievable supplements contain the highest quality bee products, from pollen to propolis. Scientific studies of bee propolis have proven that it can be used to fight colds and flu's as well as prevent viral, bacterial and fungal infections. Bee Prepared is also on hand to fight nature with nature! The Reishi mushrooms contained are antioxidant and anti-inflammatory phytonutrients, which can be helpful in reducing the first signs of illness.
Most recently winning 'Best supplement for 2011' in the Healthy Living Awards, UnbEElievable products offer a natural alternative to help keep you fit and healthy without artificial ingredients, additives, GMOs and preservatives; making them suitable for both adults and children alike.
Ingredients are sourced in the EU whenever possible and UnBEElievable products are manufactured in the UK.
For more information, visit unbeelievablehealth.co.uk.