Celebrate the Diamond Jubilee with a Diamond Dish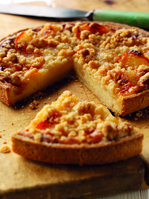 The Bramley Campaign searched the nation for the ultimate celebration dish to honour Her Majesty The Queen's Diamond Jubilee and crowned The Bramley Apple Crumble Tart the winning dish. Created by Grace Mathews from Penzance, Cornwall, the dish is now available exclusively in Sainsbury's supermarkets in time for the Jubilee festivities.
The Bramley Diamond Dishes competition received entries from across the country from Bramley fans wanting to mark the 60 years of The Queen's reign, whilst championing British produce and testing their cookery skills.
Entries were judged by a panel of food experts including renowned food critic, Prue Leith, and representatives from Sainsbury's, The Craft Guild of Chefs and English Apples and Pears Ltd. The overall winner, Grace Mathews, achieved the accolade of her dish being developed and going on sale exclusively in over 500 Sainsbury supermarkets nationwide, as well as winning a £500 cash prize.
Grace Mathews, Bramley Diamond Dish competition winner, said: "I was delighted to win the competition and honoured that my dish will be available in Sainsbury's stores nationwide. It was a pleasure to create a unique dish as the Bramley apple is a truly iconic British product and is unrivalled as the best apple for cooking. The dish is an inventive twist on the classic apple crumble, creating a light and summery tart combining the flavours of sweet and rich almonds with tangy Bramley apples, topped with a light crumble layer to add that extra crunch."
Prue Leith, food critic and judge for the competition, said: "I spend my life telling people – children, amateurs, chefs, caterers, anyone who will listen – that good food and cooking are about pleasure. I also spend a lot of time banging on about fresh British ingredients, and judging the best menus by the best chefs in the country. So I was delighted to judge the Bramley Diamond Dishes competition which brings together The Queen's Diamond Jubilee and that most British of classic ingredients, the Bramley apple. I hope the winning Bramley Apple Crumble Tart inspires a fresh look at the potential of such an iconic British ingredient. There's a lot more to the Bramley than apple sauce."