Couple unlock a move to a new home with part exchange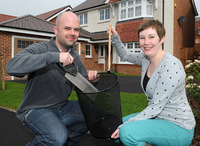 Moving up the property ladder is easy with part exchange from Redrow, as James and Heather Foster discovered.
The couple used the time and money saving incentive to move from Shaw in Oldham, to Birch Grange in Rochdale.
They also found themselves with a well–equipped modern home that's more economical to run than their old one.
James explained: "We're hoping to start a family in a few years and wanted somewhere bigger and closer to the countryside but didn't mind exactly where it was located.
"The Wardle area looked nice and we loved the Redrow homes when we visited Birch Grange. However we hadn't sold our old home so didn't think we were in a position to move – until we heard about part exchange. I don't think we'd have moved without it; selling our old home on the open market would have been a show stopper."
James added: "Our move went really well and we've already recommended Redrow to other people who are looking for a new home."
James and Heather, both 31 and who both work as sales managers, used their old home as part payment for a four-bedroom Canterbury style home from Redrow's New Heritage Collection.
"Because we were the first people to buy a home at Birch Grange we had plenty to choose from in terms of the style of property, its location within the development and its finish. We opted for the Canterbury because its design is quite unusual – it has double patio doors onto the garden from both the dining room and the lounge," James commented.
"We've always bought second hand homes in the past and it was nice to be able to choose everything from the kitchen work surfaces and cabinets to the bathroom tiles. Buying a brand new home also meant that we didn't have to decorate before we moved in. It's great value for money in terms of the specification – integrated appliances such as a microwave, oven and fridge freezer are included as standard – and the quality of the finish is excellent."
James and Heather have also noticed a difference in the energy bills following the move.
"We have a smart meter which shows our gas and electricity usage and have noticed our new home is not only warmer, but more economical to run than our old home," James added.
Birch Grange features four-bedroom homes in a choice of styles, priced from £214,995.
To discover how Redrow could help you climb the property ladder, visit Birch Grange where the show home is open Thursday to Monday from 10am to 5.30pm.
For more information, visit redrow.co.uk.