Make history with the Vegan Society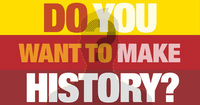 People are increasing going vegan to improve their health, at the same time challenging our society to end exploitation of animals, and suggesting that plant-based diets may now be a key part of the solution to global problems from climate change to obesity. Many vegans find their plant-based lifestyle expands their cuisine horizons and adds to their enjoyment of life. A controversial new video commissioned by the Vegan Society and released this week aims to turn current thinking on its head and inspires the question 'why haven't more of us thought of doing this before?'
Science backs up the fact that it's healthy to live on a plant-based diet. The American Nutrition Academy* and Dieticians of Canada jointly state, "appropriately planned vegetarian diets, including total vegetarian or vegan diets, are healthful, nutritionally adequate and may provide health benefits in the prevention and treatment of certain diseases. Well-planned vegetarian diets are appropriate for individuals during all stages of the life-cycle including pregnancy, lactation, infancy, childhood and adolescence and for athletes."
There are currently third-generation vegans thriving in the UK. Founder of The Vegan Society Donald Watson enjoyed an active life well into his 90s, and there are hundreds of thousands of thriving vegans around the world. Elite athlete Carl Lewis credits a vegan diet for his 'best year ever'. Famous vegans include Nathalie Portman, Katie Perry, Mandy Smith, Avril Lavigne, Brad Pitt, Prince, Joaquin Phoenix, Russell Brand, Woody Harrelson and Bill Clinton. And in addition, there are the proven environmental reasons for a plant-based diet.
A new, ground-breaking video from The Vegan Society entitled, 'Do You Want to Make History?' builds on the proof that we don't need to eat meat, milk and eggs for our health. Harming animals for the pleasure of taste is a matter of choice, and ethics and the time is right for a debate on this. The video challenges people to make a change in their lives: "If you believe all our fellow animals seek life and freedom, imagine being strong enough to follow your own convictions."
It includes historical examples of how individuals have successfully overcome mis-treatment, such as votes for women, that resulted in landmark changes within society. This uniquely powerful and persuasive animation is essentially saying that what every person does counts and what one person decides can influence many.
View 'Do You Want to Make History?' launches this week at vimeo.com/40717873 This video is part of The Vegan Society's drive towards taking The Vegan Pledge. Visit veganpledge.com for more information on how you can help make history happen.