Celebrate the Mini at Gaydon Show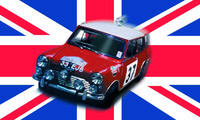 Hundreds of Minis and their owners will converge at the Heritage Motor Centre on Sunday 1 July to celebrate this iconic car at the annual Gaydon Mini Show. The popular show, for Minis old and new, will feature a host of exciting events including a unique exhibit of 1959 Minis, the Mini Concours/Show 'n' Shine competition with a £250 cash prize for the winner, a 'fancy dress your Mini' competition, Mini traders and trade stands, as well as displays by the Mini Traveller and Countryman Register and a guest display of 1100s, which were also designed by the Minis designer, Sir Alec Issigonis.
The show is being organised by the HMC and the Heritage Mini Alliance, a combination of clubs and individuals who have volunteered to help with the show. Proceeds from the Festival will go towards the British Motor Industry Heritage Trust, an educational charity based at the HMC, which preserves and cares for the vehicle collection and its extensive motoring archive. This includes the 3 winning Monte Carlo Minis, the first Morris Mini, the last Classic Mini Cooper and the works of Sir Alec Issigonis.
New for 2012 are a car boot auto jumble and an indoor Bazaar & Craft Show featuring quality independent traders and handmade crafters. Appealing to the whole family, this event can be found on the first floor of the Heritage Centre and is free to enter.
Emma Rawlinson, Event Executive for the Heritage Motor Centre stated "The Gaydon Mini Show, which is a fantastic family day out and not just for Mini enthusiasts, aims to show that the spirit of the Mini is as special as the car itself. With so many exciting Mini events and activities, the show has something for everyone!"
Advance tickets cost £8 per Mini vehicle (including up to 4 passengers) or £8 per person if not arriving in a Mini or £11 on the day for adults, £8 for children and £34 for a family ticket. Camping is available on Saturday 30 June. Tickets can be purchased by phoning the ticket hotline on 01926 645029 from Monday to Friday 10am – 5pm.
The Gaydon Mini Show is just one of many exciting and unique motoring events held at the Heritage Motor Centre in 2012. To find out more information, visit heritage-motor-centre.co.uk or mini-show.co.uk.