Used trucks are 'good to go' with new selected & approved offers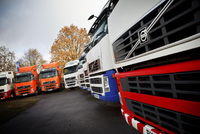 Buying a Volvo Used Truck is now an even more customer-friendly experience with the introduction of a series of important refinements to the already comprehensive 'Selected Used Truck' programme.

Volvo's Selected Used Truck offer is regarded by operators as one of the best on the market with its 200 point mechanical check, next scheduled service completed, high minimum standards for tyre tread depth and minimum six months MOT and a full 12 months, manufacturer backed, Driveline Assurance included in the price.

Operators can now take advantage of two newly introduced additional programmes. Volvo Used Truck Approved and Volvo Used Truck Basic.

The Approved programme delivers many of the benefits of the Selected scheme in terms of vehicle checks, together with a six month, manufacturer backed, Driveline Assurance included in the price.

Approved provides operators with peace of mind that they are getting a Used Volvo truck that intrinsically offers a lower risk in terms of both cost of ownership and physical reality. Particularly as Volvo's comprehensive Dealer Network and Volvo Action Service provide a total back up solution that is second to none.

Volvo Used Truck Basic caters for operators who want a 'stripped down' purchase but who are also wary of buying 'sold-as-seen' vehicles privately or at auction. It ensures that Volvo Used Trucks can offer all levels of purchase for all types of budget and operator.

Peace of mind is assured, thanks to the strength of Volvo's unique Used Truck offer when it comes to pre sale preparation and manufacturer backed Driveline Assurance and also the fact that Volvo trucks can deliver years of reliable service as well as safety.

The Volvo Driveline Assurance product is a manufacturer backed cover that has a number of advantages over an insurance product as there is no VAT to pay on any claims and claims are not subject to a loss adjuster. Claims are judged and authorised by Volvo people based on the physical nature of the fault – not by a third party loss adjuster. Also, there is no claim limit and no limit on the number of claims. Breakdown cover is included if the fault is covered, and operators can choose to add European cover.