No photo finish in race for Olympic parking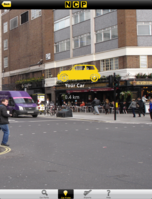 NCP has redeveloped its FREE and ingenious app for iPhones and it's now available on iPad. This could end parking pain this summer and beyond.
Parking is at a premium throughout the UK in the summer months. Thousands of visitors flock here to enjoy the spectacular scenery and stunning tourist attractions, and many more will be coming this year to enjoy the biggest sporting event in the world. For the millions of drivers across Britain, finding a suitable car park will be full of stress and strain.
Enter NCP – the company has re-developed its free and ingenious car parking app for motorists with iPhones and iPads just in time for the first starting pistol to go off.
Developed by award-winning app company Mobikats, this app will help motorists find the nearest NCP car park to their destination and get them there in the shortest timeframe. It shows you which of NCP's 600 plus car parks across the UK is closest to your chosen destination and gives mapping details of its location, tariffs and precise directions on how to get there.
The app will also map out the fastest walking route from your car park to your chosen destination. By simply entering details of where you are going, the apps integrated mapping feature will provide you with a map and walking directions on how to get there.
And as if this was not enough, NCP has built in a cool car finder feature which will make losing the car a thing of the past. This clever feature means that motorists can save the location of their parked car on a map, add a photograph and some notes. Motorists then simply use the map to find the easiest route back to their car.
Alternatively, for a truly augmented reality experience, users can simply hold their phone up and instantly see where their car is parked superimposed on a video camera feed from their phone – there really will be no parking pain this summer!
Alison Sams, NCP's head of marketing and retention, believes the iPhone and iPad app will become an essential tool for motorists this summer and beyond and will help motorists to find a suitable car park in the shortest timeframe.
"It is going to be a fight for car parking spaces this summer due to the sheer volume of people who will travel here, be it for the Olympics or the many other tourist attractions this country has to offer. Our apps help to take the frustration out of parking so that they can simply enjoy themselves."
The iPhone and iPad version of the NCP app can be downloaded at itunes.apple.com.
The android version of the NCP app was launched last year with great success, and can be downloaded from market.android.com.