New home owner is 'moved' to propose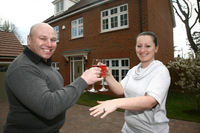 Moving house brought out the romantic in Chris Hurcombe, prompting him to pop the question to his long-term girlfriend Jacqui Howard.
After a busy day shifting furniture and unpacking, getting engaged was the last thing on Jacqui's mind, but Chris had other ideas.
Finally settled in the brand new Redrow home they'd both fallen in love with at Great Park, in Rubery, he got down on one knee to ask Jacqui that all-important question. .
Jacqui explained: "After 12 hours of moving and trying to get things straight we sat down to have a drink but then Chris disappeared. I wasn't sure what was going on until he came back and proposed with a ring I'd shown him 18 months ago. I'd hoped he'd propose on our 10-year anniversary in January and it was the last thing on my mind when we moved in – it was a complete surprise. A lot of people working on site have congratulated us."
The proposal was a fitting end to the couple's 'love affair' with their brand new home and its location; and followed years of searching for a property where they could raise the family they now hope to have.
"We'd love to have a big family if we can and wanted somewhere we could grow in to rather than grow out of," Jacqui said.
"We could see ourselves living at Great Park as soon as we arrived and when we saw the plans for the Hampstead, we thought 'this is it, it's perfect'. Everything just seemed to fall in to place – it was meant to be."
The couple travelled to Bristol to view the Hampstead show home at another Redrow development, The Bowery, which cemented their love for the design.
"We're social people so the open plan layout with the combined kitchen, dining area and family room with patio doors to the garden is ideal for us. We've got spare rooms for when family come to stay and an extra shower room to complement the main bathroom and en-suite to master bedroom. We loved the feel of it – it's a fantastic house and we were fortunate to be able to buy the property we wanted," Jacqui added.
"We had looked locally and further afield but nothing came close. As soon as we found this house it felt like home. The value for money in terms of the layout and specification can't be beaten. Every member of staff always had a smile on their face and if we had any issues they were dealt with straight away. From start to finish the whole experience was fantastic – the service from Redrow was second to none. I'm glad we bought our first home together from Redrow – I couldn't imagine it being anyone else."
Current availability at Great Park includes a choice of four and five-bedroom homes, priced from £249,995. A five-bedroom Hampstead, similar to Chris and Jacqui's is available from £354,995.
To see why the couple fell in love with the homes at Great Park, visit the development where the show homes are open daily from 10am to 5.30pm.
For more information see redrow.co.uk.