Tale Trails story walks in the Lake District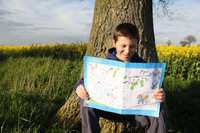 Entice your children into the great outdoors during a fabulous Lake District break this year, by introducing them to Hetti the Carvetii of Pooley Bridge, The Nozomi Bird of Aira Force and The Marsh Kelpie of Askham Fell!
All three are awe-inspiring characters in a brand new series of exciting story walks imaginatively created by Anja Phoenix of Tale Trails – a new business operating in the Eden area of Cumbria with the desire to encourage children and parents to bring the landscape to life, burn off energy, use eyes, ears and brain during a fabulous walking experience and have fun on the fells.
While Hetti is only four foot tall, as light as a crisp packet and instilled with a burning desire to be a warrior, the featherless Nozomi Bird is made entirely of wishes and water and the brave Marsh Kelpie is very wary of humans. He chooses to dwell in the mysterious waters found on Askham Fell when not transforming himself into other life forms during his land-based excursions.
Filled with personality, heartstring-tugging moments and the innocence which fuels childhood imagination, Tale Trail walks are truly unique and targeted at both the young and the young at heart. Each comprises an engaging story, based on characters moulded and inspired by the heritage and myths of the local area in which it is set, plus a hand drawn map which details the self-guided walk which the purchaser can take and which is integral to the narrative.
The map and story are both beautifully illustrated in a way that brings both the protagonists and the landscape to life as the walk and story both unravel. The Tale Trail also encourages explorers to spot certain things as they walk and search for clues too, interacting with nature as they follow the route underpinning the story and ensuring that curiosity will always be rewarded.
The laminated Tale Trails can be used come rain or shine and add colour to even the greyest of days, whether the selected walk is 1.5km or 10km long, or somewhere in between.
All the important things such as directions, where to park, the best time to visit, the terrain, route length, height gain and wildlife that might be encountered during the walk are detailed on the Tale Trail, so the only thing to then do is to nominate the chief storyteller!
Best of all is the news that these Tale Trails can be bought with the change in your pocket, either from local retailers in Cumbria or online at taletrails.co.uk where each individual story costs just £3.95 + £1 for postage and packing, with a gift set of the first three Tale Trails available for £10.00 plus £2 p&p.
Families wishing to have Anja Phoenix as their narrator can opt for a guided Tale Trail walk of 1-2 hours at a cost from £20. Tale Trails can also be arranged for school groups.
With 12 years of teaching experience under her belt, as well as Mountain Leader qualifications, Anja Phoenix has used all of her credentials to make Tale Trails one of the truly inspirational travel products of 2012. Head to taletrails.co.uk to set your family's imagination alight and make it one of the highlights of your Lake District holiday.