Grenada wins tenth Gold Medal at RHS Chelsea Flower Show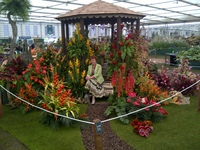 The Suzanne Gaywood - Grenada exhibit at the RHS Chelsea Flower Show 2012 named 'Tropical Paradise' (GPB/11) has won a coveted Gold Medal, the tenth to be awarded to the Caribbean island's pavilion and Suzanne Gaywood MBE since 1998.
Heliconias, gingers, musas, anthuriums, orchids and other rain forest plants adorn a rustic circular pavilion in an explosion of colour and scent to create a Tropical Paradise that provides an authentic taste of Grenada. The fresh blooms and spices were grown in Grenada by members of the Chelsea team and arranged to Suzanne's design ahead of Monday 21 May when the vibrant display enthralled Press Day visitors including HM The Queen and celebrities such as Sir Trevor McDonald, Piers Morgan, Jerry Hall and Ringo Starr.
Each year since 1998, Suzanne has taken her inspiration from Grenadian beaches, forests and gardens, creating a variety of settings that always showcase the pungent spices and vibrant blooms of her homeland.
Suzanne said: "Legend has it that if you push a stick into the ground anywhere on the island of Grenada, it will grow. This is due to the fertile soil, plentiful rainfall and perfect climate in which spice trees grow in abundance alongside tropical and subtropical plants of every description."
Commenting on her team's remarkable achievement, Suzanne said: "We have organised the Grenada exhibit at Chelsea for the past 15-years and it is always a thrill to win a Gold Medal. The exhibit gives an authentic taste of the lush flora and abundant spices that fill the sea breezes of Grenada with their delicate fragrances. I'm delighted for each of the growers and gardeners involved and thank them all for their hard work and dedication."
All connected with the pavilion express their gratitude to the 2012 sponsors, namely: The Grenada Board of Tourism, Lanwades Stud, Peter and Lana de Savary for Mount Cinnamon and Port Louis, SeaFreight Line, Coyaba Beach Resort, The Calabash Hotel, John & Joan Buckenham, Blue Horizons Garden Resort, Reg and Trish Scarlett, The Horticultural Society Of Grenada, Hyde Park Tropical Garden, British Airways and Westerhall Estate Rum Distillery
Special thanks are also due to the individuals in Grenada and the UK without whose commitment and hard work the enduring success of the Grenada pavilion would not be possible: Catherine John, Kim Henry, John Criswick, Cornelius Joseph, Fletcher Frank, Albert St Bernard, Suzanne and Peter Gaywood, Lorna Gaywood, Brian and Sue Cumming, Dave and Jane Weedon, Ivor and Gill Brearley, Kester Worme and Florence Richards.
RHS Chelsea Flower Show remains open to the public until Saturday 26 May 2011. For more information on Grenada, visit Grenadagrenadines.com.