Foodies veg out at Gadds Town House in Durham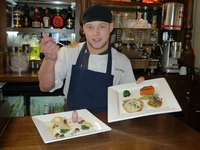 Foodies are being urged to veg out this week and try something different to tickle their taste buds, as one of Durham's five star restaurants introduces new dishes to its menu as part of National Vegetarian Week.

The new vegetarian dishes have been created to complement the Gadz Grill menu whilst extending the choice of dishes for vegetarians dining at the Durham restaurant. Gadz Grill is the five star restaurant located at Gadds Town House.

The tasty new dishes also use local, seasonal produce wherever possible including a local goat's cheese from Northumberland, asparagus from Lanchester Fruit Company, red basil from Durham Farmers Market and sweet potatoes from Durham City Fruiterer.

The new starter of "Shallot and kidderton ash ravioli, butterbeans and hazelnut butter" and main course of "Crumb top local asparagus tart, red basil pesto and sweet potato fondant" will be launched as new dishes on both the lunch and dinner menus from Monday 21 May, which marks the start of National Vegetarian Week.

Kevin Dunn, sous chef, Gadds Town House has created the new dishes. He said "I used my experience as a chef and undertook further research into what actually works as vegetarian food to create these new dishes. Local seasonal produce is very important to us and the first ingredients chosen. We have also shared our ideas with our diners, who I am very pleased to say are looking forward to ordering the new dishes."

Gadds Grill recently received a top food award in a nationally accredited food quality initiative rewarding the quality of their menu and food. The TasteDurham national standard, awarded by Visit England, also recognises businesses that source their produce locally.

Renowned for its steak dishes, Gadds Grill takes the satisfaction of all of its diners seriously. "With 1.8million vegetarian adults in the UK and 12% of households with someone who does not eating meat or fish, it is important that we are whetting the appetite of as many potential customers as possible," said Deborah Gadd, owner of Gadds Town House. "We are very proud of our reputation as a great Grill restaurant and achievement of a five star rating, and we also now have a growing selection of dishes suitable for vegetarians which we hope will maintain our high standards and exceed the expectations of all of our valued diners."

The new dishes add to menu items already suitable for vegetarians including a popular meat free breakfast - double egg any way, croquette potato, mushroom, tomato and Heinz beans, plus garlicky goats cheese toasts, wild mushroom pancake, butternut squash risotto and gnocchi, vegetable & watercress broth. All dishes are available to hotel residents and non-residents.

National Vegetarian Week, now in its twentieth year, is the UK's annual awareness-raising campaign promoting inspirational vegetarian food and the benefits of a meat-free lifestyle. It runs between May 21 and 27 and is encouraging food lovers everywhere to join the celebration of all things vibrantly veggie.

Gadds Town House is a grade II listed 18th century georgian town house, nestled in the heart of historical and culturally rich, Durham City on Old Elvet. It has 11 boutique style rooms recently refurbished to a high standard of luxury and elegance, offering guests luxury and comfort. The five star 'steak and grill room' serves the best quality and freshest meats, seafoods and produce – all locally sourced whenever possible. It is open daily for breakfast, brunch, lunch, afternoon tea and evening dinner.
To view the full menu or for further information go to gaddstownhouse.com.