Gourmet takeaway service becomes A-list favourite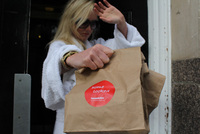 Revolutionary take-away service housebites.com is the latest celeb trend with famous fans including Stephen Fry and Lily Allen.
Housebites.com, the innovative take-away service that delivers restaurant quality food cooked by local chefs, has become a viral phenomenon on Twitter due to its popularity with paparazzi shy celebrities. Today, housebites has revealed the top 5 dishes ordered by its celebrity fan base, which includes pop star Lily Allen, television presenter and novelist Stephen Fry and even an ex-prime minister.
Simon Prockter, founder of housebites commented:"We have had a large number of celebrity customers for housebites, and a lot of them, such as Lily Allen, Zoë Ball and Stephen Fry, have taken to Twitter to talk about it - which has provided massive boosts in orders."
"I imagine housebites provides a nice alternative to dodging the paparazzi and eating out. What's surprising is that the most popular meals with celebs are the simpler home comforts, rather than anything lavish or even low fat," he added.
Eat like a celeb: Top 5 dishes ordered by A-listers:
Sea Bass, New Potatoes and Courgettes
Chicken Tikka Masala
Boeuf Provencal
Tuna Steak with vegetables and Rice
Asian BBQ Pork Belly with Sticky Rice
The service, which aims to 're-invent' takeaway, impressed certain celebrities so much they even took to social networking sites to promote it to their millions of fans. Radio one DJ, Scott Mills tweeted: "I tried this last night. So good. If you're in London and want a delivery that's not pizza Indian or Chinese try @housebites I was impressed."Other A-List tweeters include, Stephen Fry, Lily Allen and Maverick Tory, Toby Young.
Housebites' unique model allows customers to browse daily menus created by local London based chefs at housebites.com, place an order for a specific time slot that evening and have restaurant quality meals delivered to their door.
Simon Prockter added:"When we started to see the tweets coming in from such influential celebrities, we were absolutely amazed. We knew our service was revolutionary, and after we thought about it - it made sense. It must be extremely difficult for celebrities to just 'pop out' for a quick bite to eat, or to pick up breakfast from the local café. This way, the a-listers can still get home cooked food, but without the hassle of being bombarded by paparazzi or fans."
One notable order included an ex-prime minster, which resulted in the chef being invited into their home. They have since placed even more orders with housebites.
Chef Laurent commented:"I was called to say we had had a pre order for an ex Prime Minister and couldn't believe my ears. Their menu consisted of a starter of Beetroot Carpaccio, a main of Cassoulet and my signature chocolate sushi for dessert. When I arrived to deliver the freshly cooked food, I was met and quizzed by armed police guards, a little worryingly to say the least."
"I explained I was a housebites chef, and that I had come to deliver the ex Prime Ministers dinner. A woman then opened the door, again quizzed who I was, then before I knew it she had turned to ask if he would like to meet me and invited me in. We spoke about everything from my life, how long I had been in London to how I started at Housebites. I explained that it was the perfect opportunity for me to start my own business and to cook for great people. It was a very surreal, but amazing experience."
The company began life in 2011 in central London and has grown rapidly in terms of reach and revenues, cementing its place in the capital's foodie community. It has recently launched in Brighton as the first step in a national expansion.