The Great Lakes, USA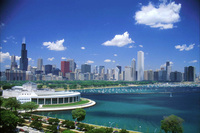 The Great Lakes USA is the largest expanse of freshwater in the world with a unique and diverse landscape. This region which is the size of continental Europe includes the U.S. states of Illinois, Michigan, Minnesota, Ohio, and Wisconsin.
The Great Lakes USA has a great number of exciting events taking place in 2012/13:
Illinois
Illinois offers the ultimate American experience, from the excitement of an American world -class city to the charm of America's heartland.
The Chicago Blues Festival, June 8-10, is the world's largest blues festival featuring famed performers such as Buddy Guy and B.B. King, who come to play to more than half a million blues fans.
Metropolis in Illinois, the home of Superman, holds an annual celebration in the second week of June each year celebrating the 'Man of Steel.' A Superman Drama kicks off the weekend of contests, food and fun, as well as a comic book & artist show, fan films, street vendors, a carnival and a Super Car Show.
The Magnificent Mile Shopping Festival August 24- September 6 celebrates its second year with designer and celebrity appearances, trunk shows and entertainment along Michigan Avenue, 24 August to 6 September.
For the first time in its history, Illinois will host the Ryder Cup, one of golf's most exciting and competitive events. Team USA and Team Europe will battle it out at the Medinah Country Club, just outside Chicago, from 25-30th September 2012.
Also in September, the International Route 66 Festival in Springfield celebrates the past, present and future of Route 66 with a free car show & street festival. This 3-day, free car show & street festival, celebrating the past, present & future of Route 66, also offers outdoor stages with live music, entertainment, Route 66 celebrities and events.
In October 2012 on the Peoria Riverfront, an eco-friendly destination will combine the Caterpillar Experience, the Peoria Riverfront Museum, the PowerDome Planetarium and a giant digital screen theatre.
During March 2013, the Mythbusters exhibition at the Museum of Science and Industry will seek to answer wild questions and urban myths through scientific experiments.
Rockford, Illinois
From Thursday 30 August to Sunday 2 September 2012 Rockford will be holding its annual 'On the Waterfront' music festival, which will play host to a huge line up of bands soon to be announced. As well as live music there will also be a carnival with games for all the family, kids' ¼ mile fun run, Rockford Chariots Wheelchair Basketball Association, a hot air balloon fly over and an urban street market. For all film fans there will also be a Film Fest showcasing a range of local and regional films across all genres.
Kegel Harley-Davidson, the worlds' oldest Harley-Davidson dealership, celebrates its centenary in 2012, with several exciting events. The dealership has been family run since it opened in 1912 and offers new and used Harley-Davidson's to buy, rental bikes and a great diner on site for the authentic Harley-Davidson experience.
Springfield, Illinois
Springfield is the state capital of Illinois and is also the home of Abraham Lincoln. During 2012, many sites and attractions will be brimming with free live performances and fun activities that will transport guests back in time to the Springfield Abraham Lincoln knew and loved. This will include storytelling, interaction with costumed interpreters and visits with Mr. Lincoln, himself.
This summer you'll find Living History happening seven days a week from June 8th through September 2nd. Watch historical vignettes with Lincoln's neighbours or catch Mr.Lincoln sitting or studying under a tree in his own backyard at Lincoln Home National Historic Site. Join Mr. Lincoln at the Abraham Lincoln Presidential Museum for some "Back-Porch" stories, a speech, or just visit him in the White House Kitchen. Or, visit the Old State Capitol and "Meet General Grant" or one of the "Boys in Blue" from the Civil War.
The most popular event of the year at Lincoln Memorial Garden is its annual Indian Summer Festival. Held this year on October 13th and 14th, when autumn colours are just beginning to peak, the festival is one of the finest family events in Central Illinois. You can find something that's sure to please everyone - pumpkin decorating, caramel apples, bluegrass and Celtic music, butterfly pork chop sandwiches, storytelling, fresh popped caramel corn, autumn colours, chilli, turtle races, fresh cider, homemade baked goodies, face painters - the list goes on.
Where did the Lincoln boys hang their stockings for Santa to fill? What might have been in those stockings? What Christmas goodies were on Lincoln's table? Discover how the Lincolns celebrated the holidays by taking a tour through the Lincoln Home at Christmas with the Lincolns, 5th December to 4th January 2013.
Michigan
Michigan is celebrating a number of milestones in 2012. It will be 200 years since the Battle of the River Raisin (part of the 1812 War), 175 since the State of Michigan was formed, the centenary of the Muskegon Museum of Art, currently showing an exhibition on the Great Depression and the 45th season of the popular Gilmore Car Museum.
There are also two major senior golf championships in Michigan this year. The U.S. Senior Open takes place at Indianwood Golf and Country Club, July 9 to 15th. The 73rd Senior PGA Championship is at Indian Shores from 22 May to 27th May.
A new art museum is scheduled to open in Autumn 2012. The Broad Art Museum is designed by the world-renowned architect, Zaha Hadid, and will be Michigan's premier venue for international contemporary art.
Detroit, Michigan
The Chevrolet Detroit Belle Island Grand Prix returns to Detroit in June 2012. It will feature cards from IZOD Indy Car Series, Grand-Am Rolex Sports Car Series, Indy Lights Series and Pirelli World Challenge Championship Series, 1-3rd June.
Hear the roar of hydroplanes racing at speeds up to 200 miles per hour along the Detroit River as they compete for a chance at the American Power Boat Association (APBA) Gold Cup, the oldest active trophy in all of motorsports since 1904. Don't miss any of the action and be sure to mark your calendars for July 13-15. For ticket information, go to gold-cup.com.
The Detroit Jazz Festival is a downtown favorite during Labor Day weekend. Covering several blocks from Hart Plaza to Campus Martius Park, this free festival celebrates the history and development of jazz music with 100 performances on five stages, educational activities for adults and children, fireworks, late-night jam sessions, opportunities to meet the artists and more. For festival details, go to detroitjazzfest.com.
See more than 300 artifacts spanning across a 10,000-square-foot exhibit at Titanic: The Artifact Exhibition inside the Henry Ford museum. The exhibit gives visitors the chance to experience one of the most captivating stories of the 20th century. Walk through extensive room re-creations, take a picture near the full-scale replica of the Grand Staircase, or learn about the life of the Titanic including its construction, passengers, the ill-fated voyage and the artifact rescue efforts. The exhibit runs March 31 through Sept. 30. For ticket information, visit thehenryford.org.
The $300 million transformation of Downtown Detroit's convention center, Cobo Center, is well underway. When completed in 2015, Cobo Center will offer 722,500 square feet of exhibit space, a 38,000 square-foot, divisible ballroom, 100 meeting/breakout rooms, 2,200 parking spaces and 31 loading docks.
Minnesota
Minnesota is home to the Mall of America, one of the largest retail and entertainment centres in the U.S. with over 520 stores, 50 restaurants and Nickelodeon Universe, the largest U.S. indoor theme park. The Mall of America is celebrating its 20th anniversary this year with a number of exciting events, including an exhibition of Diana's Princess of Wales' dresses, the launch of a new Teenage Mutant Ninja Turtles ride and a music concert. (mallofamerica.com)
The Science Museum of Minnesota has opened a new exhibition for 2012 called 'Real Pirates.' Journey into the exciting world of real pirates and experience their fascinating, true adventures. A treasure trove of genuine artifacts, including authentic pirate treasure last touched by real pirates, will transport you back to an era that lives in legend. (smm.org)
The most exciting pre-historic adventure awaits Minnesota Zoo guests in 2012 when Dinosaurs! roars back to the Zoo, May 26 - September 3. Fifteen larger-than-life animatronic dinosaurs including the popular Tyrannosaurus Rex, Giganotosaurus and Brachiosaurus will take up temporary residence on the Zoo's Northern Trail. In addition, there will be a Tyrannosaurus photo-opportunity and a Stegosaurus robot, providing a view of the internal workings of the structure. (mnzoo.com)
Ohio
Ohio is a true all-American state with impressive cities and charming rural and small-town locations. The Cleveland Museum of Art is presenting Rembrandt in America February - May 2012. The exhibition, only being shown in two other cities throughout the U.S., showcases the life and art of this Dutch artist. (clevelandart.org).
Cleveland, Ohio rolls out the red carpet as the Rock and Roll Hall of Fame Induction Ceremony returns to Cleveland April 14. The Rock and Roll Hall of Fame and Museum holds a weeklong series of events that showcase this internationally followed event. (rockhall.com)
The President's Cup takes place at Muirfield Village Golf Club, Dublin, Ohio in 2013. Muirfield Village will be only the third golf course in the US to host the prestigious match-play competition featuring 24 of the world's top golfers.
For the first time, the largest international choral competition in the world will be held in North America. The World Choir Games will be held in Cincinnati on 4 July, 2012 when thousands of choir members from all across the globe will parade through the streets of downtown Cincinnati in traditional attire. The Olympics of choral music will bring 20,000 participants and tens of thousands of visitors from over 70 countries to Cincinatti. 2012worldchoirgames.com.
Wisconsin
At the Harley-Davidson Museum, which highlights the company's rich, 100 year history in Milwaukee, there is a new exhibition from June 15 to September 3 2012. The 'Worn to be Wild: The Black Leather Jacket' traces the functional and design history of the biker jacket, along with the evolution of the garment from clothing to cultural icon. It's one of pop culture's most enduring symbols and the uniform of cool.
In July 2012, the U.S. Women's Open Golf Championship returns to Blackwolf Run. A blend of beauty and peril, the course has both meadows and rolling streams combined with deep valleys and ravines. It's unlike any other in American and the perfect stage for one of golf's greatest majors.
The largest city in Wisconsin, Milwaukee, is a cosmopolitan area offering many cultural events. At the Milwaukee Public Museum until 22nd April is 'Cleopatra: The Search for the Last Queen of Egypt' exhibition. This is the third stop on the exhibition's world tour and features nearly 150 artifacts from Cleopatra's time. mpm.edu/cleopatra/
Opening in August is the first tribal park ever to open to the public. Frog Bay Tribal National Park will offer 89 acres of pristine forest, views of the Apostle Islands, a quarter mile of sandy beaches and a canopy full of rare trees and abundant wildlife. The Red Cliff Chippewa is excited to share this beautiful piece of paradise located on Lake Superior.