Sony Music Unlimited app for iPhone and iPod Touch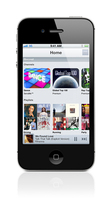 Sony has announced the pending release of the Music Unlimited service application (app) for iPhone and iPod touch this coming Friday, May 25. With the free app, subscribers can access the service's global catalog of millions of tracks whenever and wherever they are.
"With the proliferation of connected devices, consumers expect complete access to their digital entertainment and demand a consistent experience regardless of the device," said Tim Schaaff, President of Sony Network Entertainment International. "Bringing the Music Unlimited service to iPhone and iPod touch is one of the many ways we are able to reach more music lovers around the world while ensuring the same level of high-quality entertainment that is associated with the overall Sony Entertainment Network experience."
The iPhone and iPod touch will be the newest additions to the Music Unlimited service's existing ecosystem of Sony and other connected devices including PlayStation3, PlayStationVita, BRAVIA TVs, and Android tablets and smartphones including Sony Xperia. The new app allows consumers to listen to their music library, playlists and channels, easily add songs to playlists, discover related artists and tracks, and browse by genre.
"We want to let users pick up their favorite device and crank up the Music Unlimited service at any time," said Michael Aragon, Vice President and General Manager of Digital Video and Music Services, Sony Network Entertainment International. "With the addition of the new iPhone and iPod touch app, users with a Basic or Premium subscription can listen to their favorite songs across a number of the most popular connected devices – in and out of the home."
The new Music Unlimited service iPhone and iPod touch app can be downloaded for free from the App Store beginning Friday, May 25, 2012.