New homes in Hertfordshire have the wow factor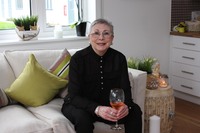 Finding the ideal property in Hertfordshire is easier than many people think – according to one lucky homebuyer at Taylor Wimpey's Mirage development of new homes in Welwyn Garden City.

The moment home-hunter Paola Pestell visited Taylor Wimpey's Mirage development of new properties for sale in Welwyn Garden City, she knew it was the perfect place to settle down.
The retiree was looking for a new home away from the hustle and bustle of London, and Welwyn Garden City, with its tree-lined boulevards, iconic fountain and flower beds, captured her heart as soon as she saw it. Paola's viewing of the stunning show apartment at Mirage was no less inspiring!
"When I walked into the show flat my hair literally tingled at the back of my neck – I knew I could live there," says Paola. "I must have been Taylor Wimpey's quickest customer! When I saw my apartment on the plan I said I'd take it and it was done in the space of ten minutes."
Paola, who was a professional tour guide in Rome before returning to London to work for Cartier and Mikimoto, retired a couple of years ago, and had a two-bedroom flat to sell before she could move into her new property in Welwyn Garden City.
Maximising her capital to ensure she could enjoy her retirement was one of her key priorities in choosing her new one-bedroom apartment at Mirage.
Paola's beautiful new apartment, which she has accessorised in creams and greens with wooden floors, would do justice to any interior magazine. The ground-floor apartment has its own front door and looks out over trees and greenery.
"I love it," she enthuses. "There are eight windows, four on each side, in the lounge so there's lots of natural light. The same applies in the bedroom too. The kitchen is fabulous – I cook lots and it's an absolute joy. And it's lovely looking out at all the trees and the turf. There's plenty of room for me and it's so easy to keep clean."
Paola is also full of praise for the customer service she's received from the Sales Executives and site workers at the Mirage development of houses and apartments for sale in Welwyn Garden City.
"I've been so well looked after by the whole team – I can't fault them," she adds. "They've done everything possible to make me feel welcome. It's all been very easy."
The development's location close to the heart of Welwyn Garden City, with lots to do for people of all ages, is just perfect, says Paola, who is planning on signing up for local creative writing and tai chi classes.
"Welwyn Garden City seems quite delightful. I'm enjoying the beautiful blue hyacinths leading up to Sainsbury's. I can walk to the Howard Centre in six minutes, and only a little longer coming back with shopping, and there's a taxi service if I need it. I've joined a gym and it's only two stops away on the bus. There's everything I need."
Welwyn Garden City was founded in 1920 and is laid out along tree-lined boulevards with a neo-Georgian town centre. The town boasts a large John Lewis and the Howard Centre indoor shopping mall as well as a wealth of restaurants, entertainment and leisure facilities.
Just 25 miles north of central London, Welwyn Garden City is an ideal spot for commuters looking to escape the busy city, as well as for parents looking for a peaceful but well-appointed place to raise their families.
Parents will appreciate that there are many schools within close proximity of the new development, providing education for children of all ages.
Mirage also benefits from exceptional transport links, with Welwyn Garden City railway station just a stone's throw away, and offering regular services to London King's Cross in under 30 minutes, while Junction 4 of the A1(M) is within two miles of the new homes and the M25 is just 11 miles away.
There's currently a selection of spacious four-bedroom townhouses to choose from at Mirage, with prices starting at just £299,950. Taylor Wimpey offers a range of incentives for first-time buyers and those with a home to sell, further details of which are available from the Sales Executive.
The Mirage Sales Information Centre, located in Broadwater Road, Welwyn Garden City, AL7 3BQ, is open by appointment, Thursday to Sunday from 10am to 5.30pm. Alternatively, visit taylorwimpey.co.uk.