teapigs Matcha Lattes create a storm at London Coffee Festival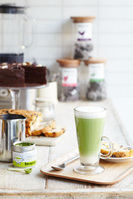 teapigs served over 2000 matcha lattes at the London Coffee Festival on the 28th and 29th of April, introducing coffee lovers to the power of matcha green tea. Matcha lattes were named as a leading trend of 2012 by the World Tea Expo and teapigs are leading the way in the UK by introducing quality cafes and coffee houses to the power of matcha green tea. Already served in key locations including, The Shoreditch Grind, Chelsea Quarter Café, Mori, Euphorium Bakery and a host of others, 2012 is the year of the matcha latte.
As the world's most powerful beverage, and having received massive success in the States and Canada, teapigs thinks its about time the UK caught up with this trend setting, super power drink. One serving of matcha green tea contains:
70 times the antioxidants of orange juice and more antioxidants than acai berries and goji berries.
is equivalent in health benefits as drinking 15 cups of regular green tea
provides a slow release of energy that lasts 4-6 hours
Plus, matcha tastes nice! No more knocking back painful wheatgrass shots. So if you're looking for a healthy latte that will get you going for up to 6 hours, then matcha is the way forward.
teapigs matcha is 100% natural and organic green tea leaves from Japan ground down to a fine powder.
For more information, visit teapigs.co.uk.